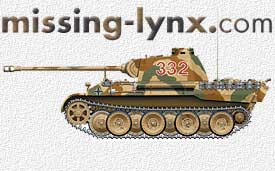 Morris Light Recce Car Mk I
Peter Brown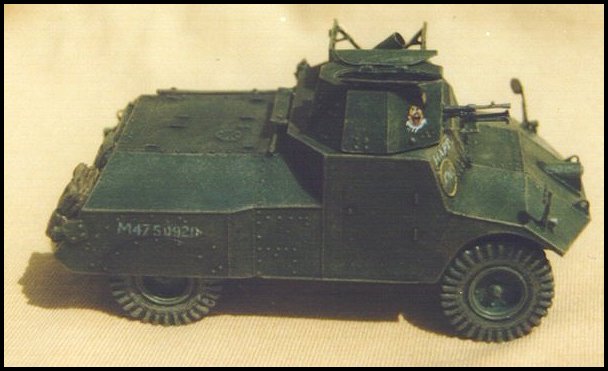 Accurate Armour Morris Light Recce Car Mk 1 Kit KT107 46 resin, 18 white metal and 3 etched brass parts plus one length
of brass wire. Available from Accurate Armour Limited http://www.accurate-armour.com UK/EEC price £39.95, elsewhere £34.00

Background
The British armed forces used three types of 'armoured car' during the WW2 era. One was the 'Car, Armoured' which can be described as a light tank on wheels - in fact, at one time they were known as 'Light Tank, Wheeled'. Another was the 'Car, Scout' which was designed as a small, agile machine for probing ahead of the main forces. Finally came the 'Car, Light
Reconnaissance' which was a smaller and lighter type, basically protected against small arms fire and best suited for liaison tasks. Each of the various types was usually known by the name of its manufacturer, being built by the same companies who produced cars - automobiles as some call them - in peacetime. Early Cars, Light Reconnaissance used ordinary chassis and were produced in haste at the days when an invasion was expected any time. When the situation stabilised, new designs were produced which had the luxury of time to allow more workmanlike items to be produced.
The Morris Light Reconnaissance Car was one of these, and it was in many ways an unusual design. It had a three-man crew who sat side by side by side with the driver in the middle, one crewman manning a small multi-sided turret mounting a Bren light machine gun on his right, and balanced by another with a radio set and able to strike with a Boys .55" anti tank rifle mounted in special brackets in the hatches on the hull roof. Apart from its unusual layout, the vehicle had a fully enclosed, monocoque
hull with a smooth under surface which helped give it some cross-country ability. The initial design had rear-wheel drive only, the unpowered front wheels having independent suspension using large coil springs unlike the conventional leaf springs on the rear axle. Armour protection was light, 14mm or just under a half-inch maximum on the hull, with the turret only 12mm and the roof a mere 8mm. With thin armour and light armament - the Boys rifle gave a nasty kick when fired but was not very effective against other than the lightest of opposition - the Morris does not seem to have had a distinguished career. From what records I have been able to find, just under 1000 Mk I vehicles were built in two batches from early 1942 to mid 1943, with the second batch being reduced in number before completion. Average cost was around £900. 225 were allocated to the Royal Air Force - of which more later - which may have been taken from the main order or built to a separate contract. The improved Mk II with four wheel drive superseded it from late 1943 onwards, with over 1050 being ordered.
Records from June 1945 list 2274 on order, with 30 still to be delivered, which may refer to both marks though they state only Mk II. Also noted is the fact that they would only be issued to Royal Engineer units, and reading between the lines it was not well thought of. To quote, 'It is only since the Reconnaissance Corps was amalgamated with the Royal Armoured Corps that
this vehicle has been examined by AFV designers, and although it was not possible to carry out any major modifications, certain stowage and belly armour alterations have been incorporated. Two schemes for increasing the belly armour have been developed, and successful trials of both have been carried out. The 21st Army Group scheme will be introduced for retrospective actions for vehicles already in service, the Department of Tank Design scheme will be incorporated in production' - though by that time, most had already been built.
Some unusual vehicles were also produced by Morris on similar chassis. A prototype LRC had two small turrets and all its wheels enclosed, and there was the one-man Glanville Fighter Car fitted with twin fixed machine guns which would have been of little serious use in the 1940s. Another one-off carried a 6-pdr gun with automatic loader low down in the hull, a sort of assault gun called the Firefly which was no relation to the later Sherman with 17-pdr. At the other end of the scale was a narrow two-seat car looking like an LRC which had been on a very, maybe too, successful diet, made to seem even thinner with the turret fitted on top. Called the Salamander, like the other designs it reached the stage of being built but production did not follow.
The Model
Despite its unusual shape, this is a simple model. The main part is the hull casting which is in one piece, making it any other way would mean either a fragile end result or problems aligning parts. Moulding of the part is first class, with side doors and panel lines for the engine decks and detachable rear wheel covers as well as rivet head detail and even the single central headlight all included. Very little tidying up of this or any other resin part is needed. The only this I did was to slightly thin the rear wheel covers but this was hardly noticeable on the finished model. Construction is straightforward. The independent front suspension consists of several white metal castings, these need a little cleaning up and are then assembled onto the hull. Some of these parts are small and care is needed to get everything in place without gluing the part to the modeller and not the model. Two vertical rods need to be added, the kit wire is ideal for this but I used plastic rod, drilling over-deep holes in the underside
of the mudguards, dry fitted the rod into these, locating the lower end into the suspension parts, and then fixing with a drop of cynocrylate at each end.
Main problem with the front suspension is, with the wheels fitted you cannot see the fine detail. The rear wheels are easier, just the axle plus prop shaft. The wheels must be painted before assembly or else you cannot access them for painting. Style of wheels is different front and rear so mixing them up is not easy. Other underside detail consists of an exhaust silencer or muffler, the end pipe is already opened up by design so it is a drop fit. One omission is the pipework for the rear brakes, this is a pair of straight rods running from the small heart-shaped item just to the rear of the front suspension assembly to the inside face of the rear wheel drums, and I added this from 0.5mm plastic rod. Several small items need to be added to the hull, but the main work will be the etched brass grill part E1. This is a low pyramid, fitted over a raised X-shaped housing. After painting the recessed area under it flat black, I tried to gently bend the part to shape. In the end I cheated and cut along one of the central stiffening bars and formed the part before fixing using cynocrylate along the central ribs with more run into the edges when that had set. Other than making this part as more than one section I cannot see how it could be made, and as it is not large it is probably best made as in the kit.
The small turret is in one piece with a large well moulded in it. Separate, very thin section roof hatches are included and can be fixed open or shut, I made mine folded flat down. Armament for the turret is a superb white metal Bren gun. Finely moulded, it depicts a Mk I gun with tiny dial sight, magazine not fitted and with the sliding cover over the magazine housing. The pistol grip is truncated to fit the turret floor, which is a pity as with it the item would be very useful elsewhere. I added a bipod to mine,
taken from an old plastic kit item, although as this was detachable on the original it could be left off. One point to note, Brens mounted on vehicles often mounted the large 100 round drum magazine, as an alternative to the distinctive curved 30 round
box, in case you want to add a magazine to your model. Also on the turret is the 4" smoke grenade discharger, which used a cut-down bolt action rifle mechanism to fire it. This was fitted at a steep angle, and needs the flexible firing cable adding stretching from the rifle trigger to the rear turret face using thin wire, rod or stretched sprue. On the opposite side of the hull the large square hatch has a deep well moulded for those who want the hatch open. Hatch flaps are very thin section and the small doors in them are separate and can be fixed open or shut. If shut the fit is very close and after dry fitting a small smear of
cynocrylate will keep them in place. The stays holding the hatches open are very fine, almost finer than etched brass. Downside of this is, they are fragile. If fitting the hatch open, make sure you position the stays as per the instructions.
Armament for this hatch is the big Boys anti tank rifle. The kit has the second type with long, multi-hole muzzle brake, not the donut style of the early guns. This is another lovely moulding, the rear hand grip is included but not the bipod, this was removed anyway if the gun was mounted. As the car I wanted to depict did not have one mounted, I left mine off and fitted the hatches open with the small doors in them closed. Prominent rear view mirrors were used on this car. AA give you the mirrors as etched brass parts, which are designed to be folded from two linked circles. They show a single stalk fitting, all the photos I have seen show a separate arm - maybe spring loaded - reaching half-way up the main arm. The rod included is ideal for this purpose. Stowage, well, what a lot you got! Two small rolls, three packs, four 2-gallon cans moulded together - these have the carrying handles so finely moulded they do not need separate handles - two sizes of rolled camouflage nets, one large rolled cover and a folded one, plus two Bren magazine boxes are included, as well as a spare wheel. My chosen subject vehicle seems to have carried very little stowage, so I added the 'canvas cover' part KP on the right hand rear side, which is where the official stowage shows it. This item was a cam net and cover folded together, the model part even has the carrying rack moulded on so make sure it is at the bottom. The white metal tools - shovel, pick and bar - were added as per kit instructions.
Conclusions
Not a complicated kit, with clear step by step photo instructions and all parts well moulded so there is little flash to remove, apart from the very unusual subject matter and the number of small and fragile parts, this would make a good starter kit for anyone wanting to try resin models. The only drawback I can see is the lack of decals, which may be due to lack of coverage of the vehicle in service.
Markings
With references on the vehicle being not common to say the least, I was amazed to find enough to mark the kit comprehensively. I decided to finish my model as a 'Car, Armoured, Morris Type E' in Royal Air Force Regiment use, in service in Tunisia March 1943. The RAF Regiment was formed in January 1942 to defend airfields from attack. Prior to that, their defence had been in the hands of local Army units and RAF ground staff. The more formal organisation allowed the Army to move to training for offensive roles, and the RAF Regiment themselves also had some offensive capability and were able to capture airfields on their own behalf in the later stages of the war.
Two photos of a car called Happy from the 'Snow White and the Seven Dwarfs' cartoon, complete with artwork depicting its namesake, appeared in a book back in 1977. One photo show the car in close up with the cartoon on the right hand turret side and the name above the bridge class disc which bears the lettering 'A TRP No 1'. The other is a more distant shot, showing a
neatly painted tactical number on the front mudguard and a less well painted - or maybe chalked - number on the hull opposite the bridge disc. Some other lettering appears over the front wheels but the angle of the photo makes it hard to decipher. A side view of a car with the same visible markings appears on a plate in George Bradford's old classic on North African markings, enough to suggest they are the same car, although he shows in the 1940 section. I emailed him asking after his references, he kindly sought out his original photo he used but it was not fixed properly way back then and has faded to the point of being illegible. So I am not a lot better off, but at least am no worse off. The wording may say 'NOT TO BE - STOWED - ON DECK' but I cannot be sure.
However I had enough to be going on with. The whole vehicle was painted dark green, the Happy cartoon was hand painted using an old magazine for the colours - pink face, red tongue, sandy yellow hat and white beard, all outlined black - and was fairly easy to do as it is small enough to be just a few shapes. Most other markings were hand-painted easily enough using white acrylic which being washable if not totally dry allows several attempts. I used Bob Fleming's 'Panzer Prints' British Airborne decals set D35/3 for the serial. As this sheet is designed for specific vehicles, it did mean cutting several serials into short blocks and individual characters. Their method of application, whereby they are positioned with backing paper in place, lightly rubbed down and then the backing removed by wetting, worked well as I could position individual numbers more easily than floating conventional decals into place item by item.
It seems at this time, armoured vehicles in RAF use had their original Army serial numbers. I have seen other vehicles with these and the later style using a separate sequence prefixed 'RAF' which was standard practice later in the war. By the way, on the subject of the list of serials in the instruction leaflet, I think the batch described as 'mixed I/II' were all Mk II but cannot be sure. Alas, British wheeled armour - well, ok any British armour - is not as well documented as I would like it to be.
Sources
What little there is in print on the Morris is hardly worth mentioning, any decent source book on WW2 British AFVs does have the basic facts. The Tank Museum includes the Morris as one of its Plans Packs, which are a series of extracts from vehicle handbooks. Contact them at the Tank Museum, Bovington, Dorset BH20 6JG England which two IRCs for an up to date list and prices. 'Focus on Armour Camouflage & Markings - No 2 British North Africa' by Kenneth M Jones, Almark Publishing 1977, now long out of print, provided the main markings details, augmented by 'Armour Camouflage & Markings, North
Africa 1940-1943' by George Bradford from Arms & Armour Press and I think ARCO in the USA, again out of print nowadays. Anyone wanting alternative schemes may find them hard to track down. Most reference works show these cars - if they show them at all - in the patchy 'Mickey Mouse Ear' camouflage in factory shots. George Forty's 'World War
Two AFVs - Armoured Fighting Vehicles and Self Propelled Artillery' (Osprey, 1996) and the old series Osprey Vanguard number 30, 'Polish Armour 1939-45' by Krzystof Barbarski each have single photos which may help. Another option is from another defunct series, Tanks Illustrated number 10 'D-Day Tank Battles' by George Balin. That shows another Mk I - not a Mk II despite what the caption says - in Normandy in 1944. By coincidence it is another RAF vehicle, named Grumpy and with RAF style serial number. The photo does not show other markings however, but it is a strong possibility that is it from the same unit I depicted.
Acknowledgements
I would like to record my thanks to George Bradford for his help in trying to pin down the final markings data. Such efforts on behalf of others shows a generosity of spirit which is sadly rare. Finally can I thank Derek Hansen of Accurate Armour for supplying the review sample, way back in 1997, and being patient enough to wait for the article.