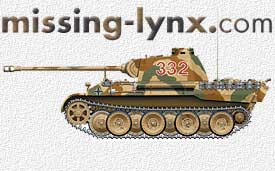 Sd.Kfz. 267/268 Befhelswagen Tiger I - Mid Production s.Pz.Abt.507 "WHITE A" Command Tank of Battalion CO Major Eric Schmidt - Knight's Cross Holder Tarnapol, Russia - June 1944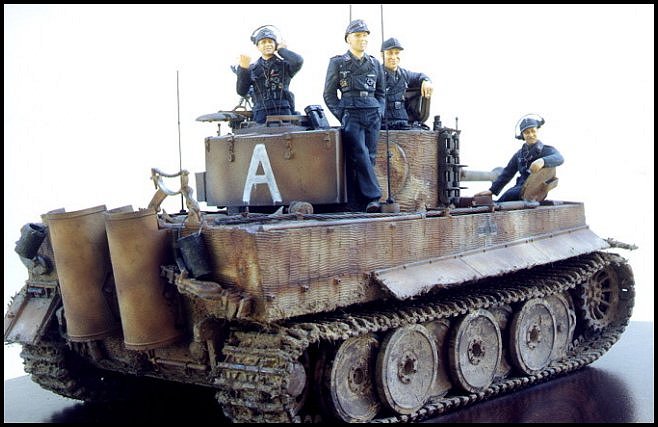 The vehicle modelled is from the s.Pz.Abt.507 (Heavy Panzer Battalion), which saw extensive service with Tigers on the Eastern Front from 1943-45. It represents the Major Eric Schmidt's (the Battalion CO's) mount, "White A", around mid-June 1944, and is based on 3 photos of it seen earlier during April forming up for the initial assaults on Tarnapol. I've chosen to depict it a couple of months later so as to show him with his Knight's Cross earned for the heavy fighting around this sector.
This vehicle ("A"), was one of the 3 Battalion HQ Staff Tigers of 507 (the others being "B", and "C"). As such it wears the extra aerials carried for the command net radios. Oddly it has 4 instead of the common three, with an extra one on the LH hull top. The associated spare aerial storage tube is seen located on the rear plate with the "C" hook towing clevis repositioned on an angle to accommodate it.
It is an earlier production 'mid' from around the December 1943 batch. While zimmerited, it has the following distinguishing features:
early pattern tracks
has an early pattern mantlet type without the reinforcing over the gunner's sights, which appears common on HQ vehicles – maybe saving the newer style up-armoured ones for standard straight battle tanks
as a command vehicle the mantlet coax MG port was plated over and welded up as was the loader's roof scope (to allow a map table and extra radios to be fitted inside)
carries the old Feifel air cleaner bracket mounts and plated engine hatch cover
has the early style radiator overflow plug on the engine deck and repositioned engine hatch hook and stay
has a pistol port plug on the turret LHS rear
carries an extra (first aid?) stowage box, attached to the LHS of the main turret bin
doesn't have the Navertiedigungswaffe close-in defence weapon fitted to the turret roof yet
has a gun travel lock on the rear RHS hull corner
carries the early 15 ton jack
doesn't yet have the blowtorch starter port on the rear plate
has the mounting points and conduit for the early position for the Bosch headlight on the front LHS corner of the hull top, but has it retro'd into the later position on the centre of the glacis plate
a unique feature seen on another of 507's Tigers (221), was added in the form of two neatly cut out notches in the commander's cupola hatch to allow the use of the scissors scopes through the holes when it was closed, which would make sense for an HQ vehicle such as this if it was a unit mod seen on other command Tigers
Work done to Tamiya kit MM-35194:
1. LOWER HULL
1.1 General
Zimmerit added using Tamiya putty and a razor saw
Triangular-shaped piece of zimmerit cut out on both front and rear plates for 507 battlion logo shield
Kit 'Late' pattern ind. link tracks replaced with Academy 'Earlies' with each soild guide tooth drilled open at bases
Front outer road wheel on each side left off as per photo and optional kit hub flanges added – this was a common practice in the field due to mud and/or ice build-up often jamming them against the drive sprockets
1.2 Front:
Weld beads added around transmission final drives, hull nose interlocks and front plate with pyrogravure
Small front fender securing toggles and brackets added from strip, rod and lead foil
Front fender side flap retaining brackets added from strip and lead foil bracket with Anvil Miniatures wing nuts
Two circular hull lifting points behind front fenders drilled through
5 screw holes added to top of drivers visor shot deflector
Machining marks scribed into top of driver's visor and onto edges
Shovel given bracket clamp handles from lead foil and styrene strip mount
Bosch light heavily detailed with solid base cut open, 2 bolts added to underside, 6 to blackout cover, and some to sides and rear from p&d styrene discs, thin securing wire added to rear of light body in an "L" angle and main conduit added from lead solder
Ball mounted hull MG barrel drilled out at muzzle, and cooling slot scribed into top and bottom with 2 holes drilled as well and serrated notches cut into rear barrel collar
Horseshoe good luck symbol welded to glacis plate from Historex
1.3 Sides:
kit track changing cable on LH hull side bent into shape to match photos plus given small securing pegs on cable eye brackets
2 engine deck tarp tie down points added to rear hull sides from 10x20 thou strip and fine wire formed into shape
1.4 Rear:
Blow torch starter port cut off lower LHS of hull rear plate
Late 20 ton kit jack converted back to early model 15 ton type with new plain base plate made from strip and various details added incl. bolts, mounting brackets and handles etc., from styrene and wire
Tow pintle on rear plate drilled through and detailed up with tow pin and eye bolt with Campbell's 36 link per inch chain
Starter crank given bolt where handle attaches from styrene punch & die disc, plus two lead foil bracket clamp handles
Starter crank guide plate between exhaust pipes detailed up and converted back to an early one, with wire, styrene p&d discs, Grandt Line GL-15 & GL-127 bolt heads, and an Anvil Mins. resin wingnut
Armoured exhaust covers given two lifting bolts and cast numbers
Exhaust guards thinned out and ejector pin marks removed
Missing Rear Fender on RHS, so filled in locator hole with zimmerit and added 3 hinge plates from strip and rod
Moulded on simplistic rear convoy light replaced with separate Tamiya one from Pz.IV OVM set
Spare command aerial stowage tube made from cotton bud shaft with p&d discs for end caps and stretched sprue hinges on strip mounting plates with p&d hex nut
Bucket from old Tamiya Pz.IVH with new handle from copper wire
"C" hook tow clevis mounted on angle with stepped lock hole drilled into rear and given 2 Anvil Mins wing nuts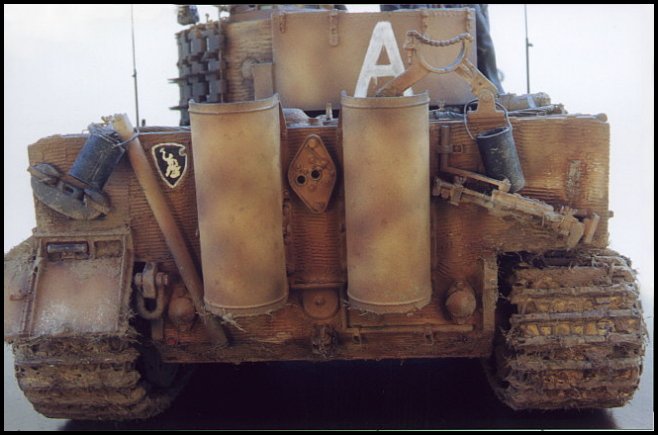 2. UPPER HULL
2.1 Interior:
4 Ammo boxes and gurtsacks added to bow gunner's sponson
2.2 Forward:
Old position of Bosch light on front LHS corner of hull top replicated with 4 small screw holes drilled in and lead solder wire cable added with lead foil bracket and rod conduit with Grandt Line conical rivet on it.
Tool bracket clamp handles added to sledge hammer plus strip bracket
"C" hook tow clevis detailed by drilling out stepped rear lock hole and adding Anvil Mins. resin wing nuts
Shovel given strip bracket and p&d bolts plus strip brackets and foil clamp handle
Jack block detailed with p&d discs, strip corner brackets and new handle on front. Missing wood grain also scribed into ends.
Axe given new bracket at head from strip and 2 lead foil bracket clamp handles
Bolt cutters given strip rear bracket with p&d bolts plus a lead foil clamp handle
Driver's and Radio Op's hatches heavily detailed with ejector pins removed, interior springs and detailed hinge arm added, numerous bits of strip, bolts, and wing nuts plus v.fine scope springs from wire wound round a rod. Welds added to scope guards on top.
2.3 Centre:
Tow cables replaced with 7 strand brass picture wire inserted into drilled ends to allow the longer length of the early ones to be replicated
Gun cleaning rods between the cables added from styrene rod with smaller rods added to ends for screw pegs that join them
New brackets added over the cable and rods with strip and p&d bolts and Anvil wingnuts.
4 missing engine deck cable brackets added from same
Engine hatch breather cover plate stowage bracket added on LHS from strip
strip brackets added to crowbar with lead foil clamp handle
2 aerial mounts added on LHS from resin copies for FuG 6 & 7 radio sets. Each given small Anvil wing nuts on their necks. A 1.4m FuG 7 Stabs Aerial was added to one mount from an industrial light globe filament
1.3m FuG 8 crows foot aerial added to RHS with resin mount inside an armoured pot made from a cut down paint brush tube. Again with small Anvil wingnut added to shaft of aerial. The arms of the spoked crows foot were formed in a jig off actual German T.M. specs. Finally a Grandt Line GL-127 securing bolt head was added to centre of umbrella
2.4 Rear:
Tamiya photo-etched engine deck screens added (MM-35179)
6 engine deck tarp tie downs added from 10x20 strip and fine wire
Feifel air cleaner brackets and mounts added from strip
Raised engine hatch breather cover was replaced with early style flat bolted plate fitted when Feifel system was removed, done in styrene
3 digit cast no.s added to hinged 'schnorkle' cover plate housing from photo-etched brass numbers
fire extinguisher detailed with strip bracket, foil data plate strip nozzle, stretched sprue buckle & tongue on retaining straps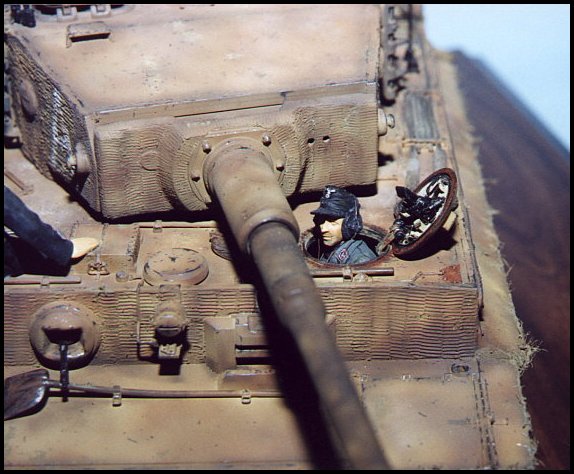 3. TURRET
3.1 Interior:
As part of the turret walls are visible past the legs of the figures, the following items were added clockwise from LHS for a partial interior:
Map table on RHS of gun from styrene with VP map, 2 sprue pencils, lead foil set square, ruler and pair of compasses, and strip eraser
Steel stowage box on wall
Binocular case
Map case
RHS vision block
3 Autemschlauch "breathing tubes"
Helmet
Gas cape pouch and MG spares box
FuG 5 radio set – transmitter and receiver with solder wiring
Map and traffic control paddle on top of radio
Gasmask case
2 water bottles and canteens
Escape hatch locking bar and "T" handle
MP-40 ammo pouches
Stowed MP-40
4 Steel bins
Ammo box
Rolled tarp
Breech guard from wire
Recuperator housing
Helmet
CO's triangular seat back from styrene
4 MG ammo gurtsacks
Gasmask case
Pistol port plug, chain and securing point
MP-40 ammo pouch
Map case
Flare pistol holster
Ammo bin for flare pistol
Helmet
Steel stowage bin
3.2 Front:
Muzzle brake given 2 internal baffles from styrene rings, 2 small notches cut into edges of muzzle opening for cross hairs, securing bolt added to neck of brake from strip and GL bolt head, 4 notches cut into neck of collar, plus in step halfway down barrel
3 lots of 2 small screw holes drilled into barrel sleeve at 10, 2 and 6 o'clock respectively
Armoured reinforcing over gunners sight holes on mantlet ground away so face was smooth as per the earlies
Coax MG aperture on RHS covered with a styrene disc and zimmerited over
Top cut out on mantlet rear face reshaped with motor tool so round cornered
Small elevation stopper peg added to rear face of mantlet with rod
3.3 Sides:
2 holes drilled in lifting trunnion housings on forward sides
Model Kasten spare Tracks and support mounts added to sides with track pin holes all drilled out and wire pins inserted into a few links
Wire handles added to tops of track holder brackets and strip added to the front edges
Unusual stowage box added to left side of turret bin
Missing latches added to rear of turret bin from Scale Model Accessories set, fine wire and padlocks from strip and wire
Hinges added to lids of turret bin with fine sprue scribed with 3 lines
Small rivets added around top edge of bin sides with tiny dabs of superglue
3.4 Roof:
Weld bead added around roof/side wall join with putty and white glue
Loader's scope plated over inside guard
Weld added around loader's scope guard with pyrogravure
Strips added round ventilator housing for waterproof cover securing clamps
Armoured lock cover added to centre of loader's hatch from 2 p&d discs drilled out and 4 sprue bolts
Locking mechanism added to inside face from strip and GL bolt heads, bracket added from strip, pull down handle from wire, and hinge arm cut from strip. Padlock bracket added to hatch surround from small piece of drilled strip
FuG 5 2m aerial added to roof behind loader's hatch with resin mount and wire aerial with Anvil wing nut on neck
Scopes added to CO's cupola from resin copies of Tamiya Panther G ones
Weld beads added round each scope guard with pyrogravure
2 thin brass tubes added to cupola for mounting rangefinder/scopes and/or rain guard cover
Triangular hatch stopper added to front lip of cupola opening from strip
Scissors scopes from Tamiya StuG IIIG with GL bolt head added to inside or arms for stoppers
Armoured guard round hatch hinge from cut down tube and strip
The cupola AA-MG mount was scratch-built from about 57 pieces of strip, rod, brass rod, brass strip, and GL bolts etc. The machine gun itself is made from a resin copy of a perforated jacketed Cal-Scale MG-34 with its butt removed and recoil spring peg added, cut in half and mated to armoured sleeve type barrel from one in the Tamiya Pz.IV OVM set. A Tamiya p-e ring sight was added from the engine grill set. The Gurtsack ammo bag is a resin copy of a Jaguar one with an Andrea ammo white metal ammo belt bent to shape.
CO's cupola hatch was detailed with weld bead up sides, scribed and undercut at the top of the arm (as it could rotate), head pad detail was added on the underside with styrene discs, strip and GL bolt heads, and finally two neat notches were drilled out as per ref. photo to enable the scissors scopes to be used even when the hatch was closed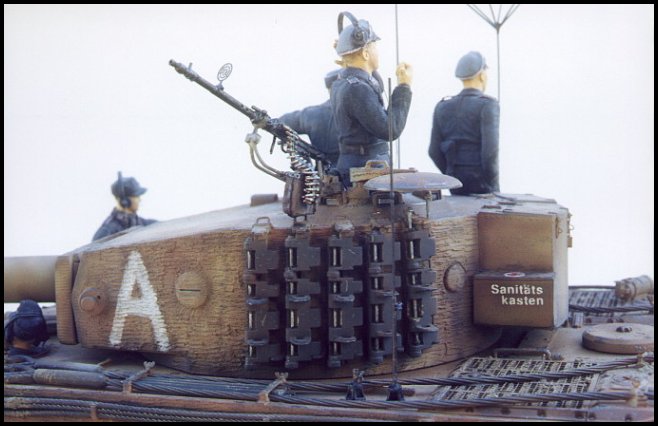 4. FIGURES
4.1 Commander (Major Eric Schmidt):
Head – Hornet smiling bare head, with officer's cap from the old Tamiya Flak Crew set, hollowed out with a motor tool till it fitted over the head. Phones from Dragon Ger. Tank Crew Set cut into cap against ear, with band from lead foil and leads from fine wire
Torso – Tamiya Tank Crew At Rest Set (E-2), with neck drilled out to take head.
re-worked at collar with knife and putty to fit a Armour Accessories plastic Knight's Cross
Shoulder boards for major from Show Modelling figure p-e accessories set (No.58) with p&d styrene disc buttons.
Lapels and collars undercut for sharpness.
Square strip collar patches added.
Armour Accessories chest eagle on LHS.
Small lapel button from small p&d disc.
Lead foil Iron Cross ribbon to lapel.
Campaign ribbons on chest from strip.
Throat mike vol. control cut off another Dragon fig.
German Cross in gold on RHS and wound badge on LHS from Verlinden Ger. Soldiers p-e set.
Officer's belt from Show Modelling Photo-etched set.
Holster from Tamiya Ger. Tank Crew at Rest set.
Right arm – parts box/putty with hand from Tiger kit CO.
Left arm – old Tamiya Tiger II Radio Op. with p&d disc watch and lead foil band.
Legs – Dragon Tank crew reworked to fit torso and puttied up.
4.2 Loader (Hauptmann Fritz Shock):
Head – Hornet smiling bare head with cap hollowed out also from Tamiya Seated Ger. SS troops set given new WH rosette badge and eagle from Armour Accessories.
Torso - Tamiya German Tank Crew at Rest (D-3) with neck drilled out for head.
Shoulder boards from Show p-e set with 2 strip diamonds for Hauptman (captain) and p&d button discs.
Chest eagle Armour Accessories.
German Cross, close combat clasp, wound badge and tank assault badge from VP p-e set.
Holster from Tamiya tank crew set.
Arms – reworked and cut down ones from parts box with lots of putty to fair them into pockets, Demanysk shield on left arm shaved of arm of Tamiya Porsche TII CO
Legs & boots – Verlinden Ger. Early War Tanker (VP-652)
4.3 Gunner:
Head - from Hornet smiling head set with resin copy of Tamiya field cap from Ger. Infantry at Rest set hollowed out to fit it
Torso – Tamiya Tank Crew at Rest (A-4) with Knights cross removed and collar opened slightly, lapels undercut and buttons added to chest, shirt, and shoulder boards using p&d. Holster Dragon.
Left Arm – Tamiya US Inf. set and lots of putty with Historex hand, putty watch and band, and a sprue cigarette inserted into drilled hole
Right Arm – old Tamiya StuG IV/Lang figure with Dragon hand from Tank Crew
Legs – Dragon tank Crew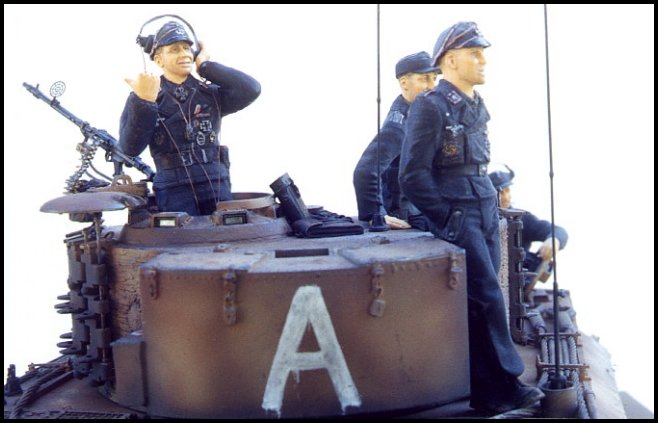 4.4 Driver:
Head – Warriors Pz.IV Crew with phone leads from fine wire
Torso – Warriors Pz.IV Crew
Strip collar tabs
Armour Accessories chest eagle, wound badge and Iron Cross II
Wound badge from VP p-e set
Left Arm – Dragon with hole drilled into fingers for sprue cigarette
4.5 Radio OP/Hull Gunner:
Head – reworked Hornet smiling head - field cap added with mouth opened up, sprue cigarette, nose changed and all re-cast in resin
phones Dragon, with foil bands and wire leads
Torso – Warriors Panzer IV Crew
Shoulder boards from Show set with p&d disc buttons
Strip collar tabs
Chest eagle, Iron Cross, wound badge and belt buckle from Armour Accessories
Throat mike vol. control from a Dragon fig.
Iron Cross II lapel ribbon from Alfoil
Holster from Tamiya
Left Arm – Dragon Tiger aces set heavily puttied to fit pose
Right Arm – Dragon Tank crew with hand re-positioned
Legs – heavily reworked Tamiya Sd.Kfz. 222 CO fig's. with a lot of motor-tool work and putty to fit pose
Boots – Andrea recast in resin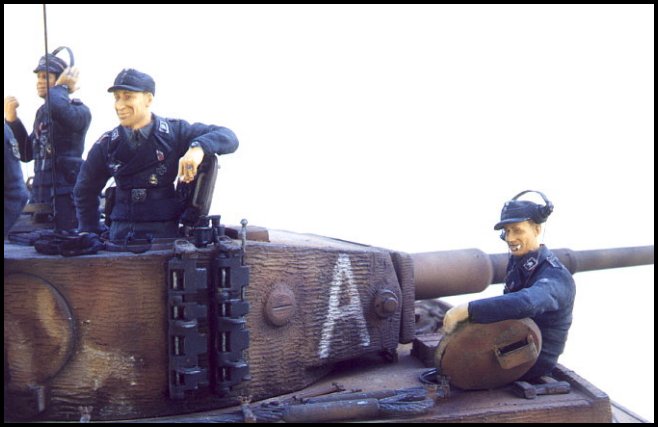 4.6 Painting:
Flesh done in Windsor & Newton Artist's Oils
Uniforms in Humbrol enamels
Base coat of Tamiya XF-59 Desert Yellow mixed with XF-57 Buff
Brown camo applied with Tamiya XF-64 Red Brown
Post shading overspray with 4:1 mix of Red brown and XF-1 Flat Black
507 Blacksmith unit logo decals taken from 2 Tamiya Ltd.Ed. Tiger I Late sheets, applied to glacis plate and rear plate shield shape cutouts in zimmerit. The front one was cut down as is only half visible when the driver's visor is open. Both were given hand-painted white outlines around the black shield.
There seem to be two variations for position of this crest on the glacis plate – one as per mine above the driver's visor and the other to the left of his visor in the centre of the plate. The back one is usually seen more towards the outside edge of the rear plate, but due to the aerial storage tube position on this command version, it is further in.
3 large white "A"s were roughly hand-painted as per the photos on the turret sides and rear bin.
2 German crosses were also roughly hand-painted on the hull sides to match the ref. shot.
Medics markings were added to the side of the extra box attached to the main turret bin – ie. "Sanitäts kasten" (First aid box), as a logical guess to match the indistinct stencilling seen on the ref photo, plus a red cross from Verlinden's Medic & Communication Eqpt. Set (VP-916), applied to the top.
Mud from Humbrol 5029 Acrylic Dark Earth mixed with Anvil groundwork powder for body and Verlinden Static Grass
Weathering with various pastel chalk colours – tans through to blacks.
Scratches and bare metal effect on edges from 2B lead pencil.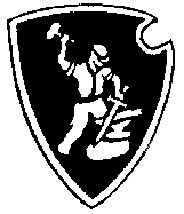 REFERENCES

Tigers in Combat 1 - Wolfgang Schneider, JJ Fedorowicz Publishing, Winnipeg, 1994.

- Chapter on s.Pz.Abt.507 from pp.349-374 with numerous photos

- 2 pics of "White A" on p.363 (front LHS & Rear LHS)
Panzertruppe Vol 2; 1943-45 - Tom Jentz, Schiffer Publishing, Pensylvania 1997
- clearest repro of the front LHS shot on p.132
Tiger I & II Combat Tactics - Tom Jentz, Schiffer Publishing, Pensylvania 1998
- p.145 another clear shot of this view
Ground Power No.58 March 1999 - Panzers in the Eastern Front [2] – Delta Pubs., Tokyo, 1999
p.61 clear shot of front LHS view again
Tiger I on the Eastern Front - Jean Restayn, Histoire & Collections Publishing, Paris, 1999
p.80 Front LHS shot, perhaps the clearest
p.82 Rear LHS shot, again the best repro
p.82 RHS Rear view, only source it appears in
Plus numerous other books for general detailing info