Italian Armour in German Service 1943–1945
by Daniele Guglielmi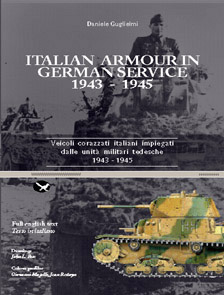 Published by Mattioli 1885, ISBN: 88-89397-17-9, Year: 2005, Pages: 314, Format 21 x 30 cm. The text is full bilingual English/Italian, with hard cover and very good gloss paper.
It contains about 320 b/w photos (some unpublished before), most original WWII shots but also including some very interesting detail shots taken from restored vehicles; there are 8 colour photos of restored vehicles, one original WWII colour shot and some colour photos of a recently dug up Semovente M42 da 75/18 with original three tone camouflage. The book also contains 15 1/35-scale drawings by John L. Rue, 16 colour profiles by Giovanni Mapelli and Jean Restayn, plus a full page of colour markings.
After a brief introduction from Steven Zaloga the book is composed of five principal parts.
Part one includes chapters about German evaluation and employment of Italian armoured vehicles, production under the Germans from September 1943 to April 1945, German opinions on Italian AFVs and a chapter explaining German/Italian nomenclature.
Part two is about the vehicles and contains most of the photos and the drawings.
There is a chapter for each of the following:
Armoured railway vehicles: Autocarretta ferr. blind. mod. 42, Littorina blindata (Libli) mod.42 and mod. 43, AB41 rail armoured car.
Armoured cars and Autoprotetti: Autoprotetto FIAT665, Autoprotetto S37, Lince armoured car, Lancia 1ZM armoured car, AB40-41-43 armoured cars (but not the rare AB43 with 47/32 gun in fixed turret) and photos of field modifications with Italian trench shields.
Light tanks: L3/33, L3/35, L3/38 and L6/40.
Medium tanks: M13/40, M14/41 and M15/42; this chapter includes the photos of M14/41 destroyed during the Warsaw uprising and photos of M42 turrets used as Festungpanzerdrehturm.Self propelled guns: semoventi and command tanks, explaining the rare German conversion of L6 SPG produced in 1944 with larger superstructure.
Heavy tanks: this chapter describes the only Italian heavy tank (medium for German standards) produced during the war: the P40. The book solves the questions regarding the engine installation and gives ample explanations about P40 turrets or tanks used as static defensive strongholds.
Part three contains info about German units with Italian armour (incuding Heer Panzertruppen, Artillerie, Infanterie, Luftwaffe, SS and Ordnungpolizei units ), armoured units of the R.S.I. (Italian Republican Army) and a small chapter about Italian uniforms and equipment used by theGermans (mostly HMG and guns). Really an in-depth piece of research!
Part four contains a description of camouflage schemes and insignas used on Italian AFVs in German service, the colour plates and the colour markings. The colour plates are excellent but don't include any profiles of vehicle with the early factory applied camouflage pattern (sand yellow, red brown and green applied with a vertical pattern and about the same dimension). The book also misses exact colour used and RAL numbers for Italian paints.
Part five contains the text of documents (odd but in Italian only) and reproductions of original German documents with English and Italian captions (as usual for the book).
This excellent book for the first time gives full coverage to the interesting subject of Italians Beutepanzer; it contains a really comprehensive research of Italian vehicles (especially rare late war models and conversions) and the most in-deep research up-to-date of their use by German forces.
Only some observations:
Describing Italian armour, of course the book omits Autocannoni (Italian truck-mounted artillery) and other not armoured vehicles in German service.
Unfortunately some photos are in a small format (more than four for page).
If the book was published in English language only maybe it could be a bit less expensive.
Highly recommended for Italian and German fans.
The books can be acquired direct through the publisher web site at: www.mattioli1885.com or through any Italian distributor.
Mario Raspagliosi