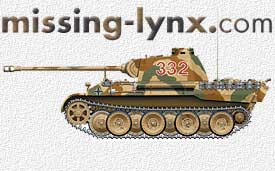 Militaria #99 M4 Sherman vol II
Peter Brown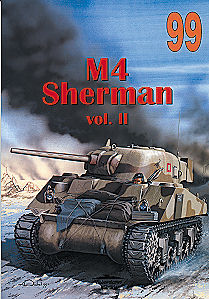 M4 Sherman vol. II by Wojciech J Gawrych Wydawnictwo "Militaria" no 99, published by Wydawnictwo "Militaria", 00-961Warsawa 42 skr. pocz. 106 email militaria@supermedia.pl ISBN 83-7219-057-7 Soft covers, 58 pages plus separate plans. UK price £7.99 Try BarbarossaBooks on barbook@dircom.co.uk or www.airconnection.on.ca if you cannot track down a copy locally.

Wydawnictwo Militaria books continue to produce good, well-illustrated coverage of AFVs, photos are well chosen and printed, colour plates show a range of different vehicle finishes and the series' only drawback is that the text is in Polish. Despite that, any new title should be looked at closely and captions for photos and colour views are in English.

Emphasis in this one is on the General Motors diesel engined M4A2 Sherman III and the Chrysler multibank engined M4A4 Sherman V, with additional material on the cast-hulled M4A1 Sherman II and the Ford engined M4A3. Apart from a small number of photos and colour side profiles showing tanks in American service, we mostly have Shermans in British and Polish service with some details on Canadian use and a little on Indian use. Photos these include factory record shots and British official views which are often printed to cover half and even whole pages, alongside other photos of tanks in the field. Shots showing Polish crewed tanks in Italy and NW Europe are useful as they are not often depicted elsewhere.

As well as the basic marks with 75mm and 76mm with a little on the 105mm, the British 17pdr Firefly conversion is covered. Complementing the other black and white are selections from British stowage diagrams for Sherman V and VC, four scale side view drawings to about 1/48th scale plus a set of armour plate thickness diagrams, and a loose sheet with 1/35th four-view plans showing early Sherman III and V and the Firefly VC with additional views of a Sherman V hull from above without the turret, from the side without suspension and an underside view. Colour includes a Polish Sherman III on the front cover and three Polish crewmen on the back, eighteen side views and a four-view colour of a Polish Firefly, and two pages of colour photos of preserved Fireflies and detailed close-ups of a late M4A2. Shermans are well covered in book form, but many titles deal with it to a greater or lesser extent in American service so this is one which will be very useful for its illustrations of British Commonwealth and Polish service. The text is a drawback to those who like me do not understand Polish, but the visual content more than makes up for that.