Dragon Germania Regiment, France 1940 (6281)
by Frank De Sisto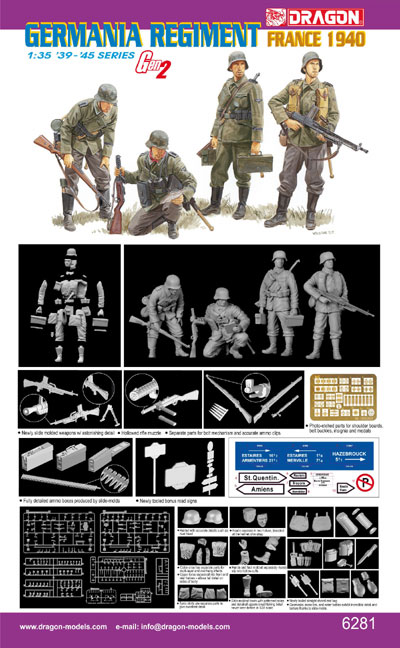 1/35-scale injection molded styrene plastic. Contains: 216 styrene parts, 56 DS-100 parts, 47 etched brass parts, one decal sheet, plus assembly and painting guide on a single-sided leaflet.
These new Gen2 figures use a pioneering parts break-down as well as slide-mold technology to produce figures on par with the better resin products on the market. They also use photo-etched brass for certain details, particularly such things as rank insignia, belt buckles, medals and badges. This latest set depicts Waffen-SS troopers from the "Germania" Regiment as seen in the French Campaign of May-June 1940.
Figure 1 depicts a rifleman standing stooped over with a hand on his knee; he has a StG24 grenade stuck in his boot. Figure 2 is an NCO down on one knee, with a map in his left hand and Bergmann MP28/II in his right hand, butt resting on the ground. Figure 3 is a standing assistant to the machine gunner, carrying an ammo box in each hand, with his rifle slung over his back, and a StG24 grenade in his boot. Figure 4 is the light machine gunner who holds his weapon, the "Ceskoslovenska Zbrojovka Brno" ZB vz.30, or German designation MG30(t), at the ready, and wears two of the specially-made magazine bandoliers, one on each side of his chest. All of these figures wear steel helmets and standard marching boots, as well as various styles of standard German field equipment.
The following equipment is provided: three ammo boxes (two closed, one opened), which have details on all sides, including inside the cover of the opened box, and also boast finely-molded separate carry handles. Other items include four, two-part snail-drum ammo cans with two-part carrying racks and two lengths of belted ammo (which are not suited to this set's weapons offerings, but are handy to have). Weapons provided include two Kar98ks, a Czech ZB vz.30 (with folded or open bipods), and a Bergmann MP28/II. All have separate bolts, ammo magazines and stripper clips in the case of the '98k. The weapons all feature exquisitely-rendered opened fore-sights, as well as opened gun barrel bores.
Personal equipment is molded in both traditional hard styrene (as are the figures themselves) as well as DS-100 soft styrene. The former includes helmets (with full rivet details), three-piece gas mask canisters, two piece canteens (six each) and mess tins (two each), as well as single-piece mess tins, entrenching tools, and bayonets (six each). Some nice options are a bayonet with separate frog, a folding shovel with separate handle and binoculars with pre-bored front lens elements and rear lens cover. New for this set are four folded shovels of a different style than those previously mentioned. In DS-100 soft styrene, DML has provided the following: three different opened and closed pistol holsters, eight gas cape pouches, four rolled Zeltbahns, eight bread-bags, three pairs of GW43 magazine pouches, five pairs of Kar98k pouches, three pairs of MP40 pouches (also used for the included MP28/II) and three pairs of MP44 pouches. Each of the ammo pouches has one pair in the opened configuration. The final items are a map case and a tool case for a German MG34 or 42 machine-gun. Several of these items are not for use in this set, but will certainly prove useful for the spares box.
This particular set also includes diorama accessories in the form of road signs suitable for the French Campaign of 1940. These are made up of styrene posts and backings to which decals are to be applied. They can be mixed and matched and include 14 different designs, printed in perfect register with crisp details and fine color saturation.
The instructions are in full color and are keyed to Gunze and Testors Model Master colors. Typically, the instructions leave something un-clear for the modeler, in this case how the bolts are fitted to all weapons. References will be handy here, and the box-top CAD renderings will definitely help as well. While I am in nit-pick mode, I will also mention one major (and one minor) shortcoming of this set. With all the attention DML has lavished on the various weapons, where are the photo-etched slings for them? The gas mask canisters could use them as well. That's what I consider the "major" gripe. However, Eduard recently released a pre-colored set of slings for German infantry weapons that will prove to be of use here, so there is certainly nothing to really be alarmed about. The "minor" gripe concerns decals for various insignia, such as cuff bands (DML has gone to the trouble of making road-sign decals, so the idea here is not far-fetched). Their inclusion would save quite a bit of work.
With all of that said, these figures are extremely well-done and certainly represent the state-of-the-art in injection-molded styrene. Calling them "Gen2" is not manufacturer's hype; these figures truly are the next generation in injection-molded styrene plastic.
Highly recommended.
Reviewer's note: Since May of 2005, I have been working on books for Concord Publications, a sister company to DML. The reader may wish to take this into consideration. For my part, I will attempt to maintain an objective viewpoint when writing these reviews.
DML kits are available from retail and mail order shops. For details see their web site at: www.dragonmodelsltd.com.