Dragon Advance to the Rhine: U.S. 1st Army at Remagen 1945 (6271)
by Cookie Sewell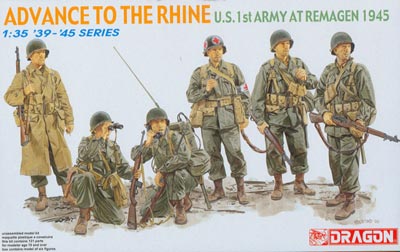 1/35 Scale '39-'45 Series Kit No.; 137 parts in grey styrene; price about US $10.95
Advantages: new poses and new configurations for US troops should be well-received by modelers; good, casual poses will set off a model very well in either a single vehicle or diorama setting
Disadvantages: figures are for late war applications only
Rating: Highly Recommended
Recommendation: for all US WWII or Korea fans
DML is still the champ of affordable styrene figure sets, and they have not lost that laurel to anyone else yet. This is another one of their all-too-few Allied WWII sets, and this time the choice of subjects should be appreciated by many modelers.
The figure set provides six figures in late war US Army uniforms, which translates as M-1943 field jackets and brown combat boots. One figure is provide with an overcoat, nicely done with a four-piece skirt; all others are in field jacket and field trousers, and three helmets with netting are also provided.
Two figures compose an observation team with an observer with binoculars and a radio operator. The latter carries a very nicely done SCR-300 (predecessor of the AN/PRC-25 and AN/PRC-77) manpack radio set.
Three figures are infantrymen, as noted one in overcoat and two in field jackets. The poses are casual and relaxed, and look to be very good for "sizing" an armored vehicle (e.g. posing next to them to get a sense of scale.)
The last figure is that of a field medic with all of his kit bags, which should prove a nice touch to many model kits (such as the old Peerless Max/Italeri WC-54 ambulance).
The kit provides a wealth of details in various ammo pouches and carriers, and even throws in two cigarettes. These are about the size of scale cigars, but considering some other manufacturers had tried this before and produced what appeared to be caricatures chewing on carrots, this is a nice try.
Since these figures are late war types, they have the additional advantage that they are also suitable for Korea, and can be used in that setting as well. (As a point of fact, the two weapons sprues included with the kit are from Korean War set #6802.)
Overall this is a good choice and will be appreciated by modelers. (But I can hear the Commonwealth fans muttering "when do we get one, too?" under their breath!)
Thanks to Freddie Leung of DML for the review sample.