Dragon Advance to the Rhine: US 1st Army at Remagen 1945 (6271)
by Frank De Sisto
1/35th-scale injection molded styrene plastic. Contains: 139 styrene parts and a small decal sheet, plus a one-page full-color assembly and painting guide. Price: unavailable.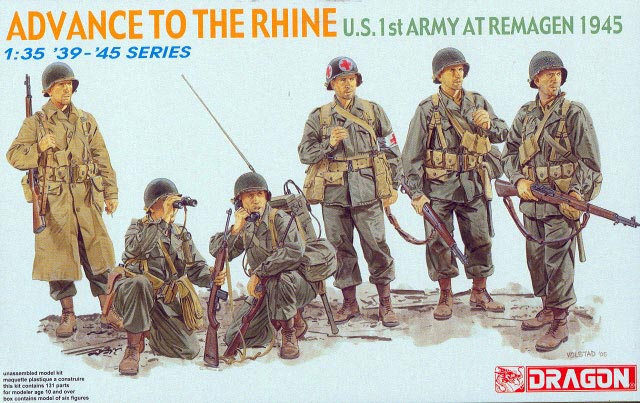 Although DML are well-known for the incredible variety of the German WW2 figure sets they manufacture, they still continue to present interesting Allied WW2 subjects at a slow, but steady pace. This new set is a case in point as it represents US Army troops as they would have appeared during the closing months of WW2 in Europe. They are also applicable to post-war use and the Korean War.
The set contains a total of six figures including three riflemen, a medic, a radio operator and an officer. These last three could easily represent a platoon's command group. The radio operator and the medic may be a first in plastic in this scale and will lend themselves well to many a diorama or vignette.
Figure 1 depicts a standing rifleman with his M1 Garand slung over his right shoulder. He wears a long trench coat and is equipped with a cartridge belt and gas mask case. Figure 2 is the officer, who is down on one knee, surveying the area to his front with binoculars. He is armed with an M1 carbine and holstered M1911A1 .45 cal. pistol. He is equipped with a map case and a binocular case. Figure 3 depicts a radioman in the act of operating his SCR 300 "walkie-talkie". He is also down on one knee, is armed with an M1 carbine and is obviously a companion for the officer. Figure 4 represents a medic with full equipment. He is standing casually and has decals to mark his helmet as well as arm-band. Figure 5 holds his M1 rifle in his right hand, while gripping his harness with his left. Figure 6 is also a rifleman who holds his weapon at-the-ready in both hands.
All figures wear the later style M1943 lace-up combat boot with integral strap-fastened gaiters, while all except figure 1 wear the later M1943 sateen jacket and trousers. They all carry a canteen and can also be equipped with an entrenching tool, bayonet in scabbard and gas mask container. Some can also wear an ammunition bandolier. The weapons include four M1 rifles, two M1 carbines and a pair of M1918A2 Browning Automatic Rifles with separate opened bipods. These last are not specifically for this set, but can easily be used by any of the riflemen, provided the appropriate ammo pouches are sourced from the spares box.
Overall, molding is well done on the figures, with the man in the trench coat having separate "tails" for the proper appearance. The weapons and equipment are crisply molded. Three of the helmets have netting on them while all have chin straps molded on their rims. The instructions and painting guide are combined on a single full-color sheet, with colors referenced to Gunze and Testors paints.
This is a very complete set, which only lacks photo-etched weapons slings for that final touch. Eduard has such a set available (TP-500, also reviewed by me here on ML), which will be an excellent addition to these otherwise fine figures. As DML sometimes includes photo-etch parts in some of their figure sets, perhaps this is something for them to ponder for future releases.
All of those who lament the relative lack of decent plastic figures of Allied troops in this scale will certainly appreciate this set. There's more to come!
Highly recommended.
Reviewer's note: Since May of 2005, I have been working on books for Concord Publications, a sister company to DML. The reader may wish to take this into consideration. For my part, I will attempt to maintain an objective viewpoint when writing these reviews.
DML kits are available from retail and mail order shops. For details see their web site at: www.dragonmodelsltd.com.