Dragon Desperate Defense: Korsun Pocket 1944 (6273)
by Frank De Sisto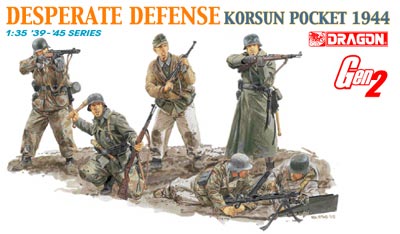 1/35-scale injection molded styrene plastic. Contains: 307 styrene and DS-100 parts and 98 etched brass parts, plus assembly and painting guide on a double-sided leaflet.
This new set from DML consists of six late-war German figures. Normally, the previous sentence would get certain modelers upset, because it is "another German set". In this case, I suggest they step back a moment and consider what we really have here. Quite simply, these figures are a "revolution-in-a-box" as they are the first separately available "Gen2" (Generation 2) figures from DML. The first individual figures to use this production technique came in the recently released Late-Production Tiger I and Pz.Kpfw.IV Ausf.E kits.
These Gen2 figures use a complex parts break-down as well as slide-mold technology to produce figures on par with the better resin products on the market. They also use photo-etched brass for certain details, particularly such things as rank insignia, belt buckles, medals and badges.
Figure one depicts a standing soldier in padded two-piece winter suit, wearing a steel helmet and firing a captured Soviet PPsh sub-machine-gun. Figure two depicts a kneeling soldier dressed in padded trousers and M43 tunic, wearing a steel helmet. He holds a Kar98k in one hand while he prepares to throw an M24 stick-grenade. Figure three is an NCO in soft cap, wearing a fur-lined jerkin over his tunic and padded trousers. He is grasping an MP40 machine-pistol. Figure four is standing in greatcoat, wearing a steel helmet. He is depicted in the act of working the bolt of his Kar98k. Figures five and six depict a prone MG42 team in steel helmets, wearing the two-piece padded winter suit. The gunner has his weapon's receiver open while the assistant feeds a new belt to him from an opened ammunition box.
The design and animation of these figures (Volstad strikes again!) is nothing short of superb. For example, I assembled figure four to get an idea of how well this molding technology will work. He consists of 18 parts, WITHOUT his weapons or equipment. The tails for his greatcoat are in four separate parts, while for extra definition one part of his chest is a separate panel that gets inserted under his right arm so no harness detail is compromised. His coat also has a separate collar, while its epaulettes are in etched brass for sharp detail, as is his belt buckle. The head is divided in half at the helmet chin strap (effectively hiding the join line), which will allow for very fine definition of his ears, a traditional shortcoming of conventionally-molded styrene figures. His hands are separate and they fit into pre-hollowed-out sleeves that have thin rims, nicely suggesting the undercut. The legs of the trousers accept separate boots, some with hob-nailed soles where appropriate. This treatment is typical for the other figures in the box. He went together quite well, but I did cut away the plug that connected the torso to the lower part of his body so I would be better able to tweak the fit. I suggest that modelers do this as it will ease the path to a complete figure. Overall, the fit was excellent as was the molded-on detail.
The weapons are molded taking full advantage of slide-molds. This means for instance, that the MG42 has slots in the top of the gun barrel cooling jacket, as well as on both sides, plus a detailed receiver with separate cover. The gun barrel is also bored out, while the ammo boxes (two closed, one opened) have details on all sides, including inside the cover of the opened box, and also boast separate finely-molded carry handles. Other items include separate folded and opened bipods, four two-part snail-drum ammo cans (each with two-part carrying racks) and two lengths of belted ammo. Other weapons provided are two MP40s, two Kar98ks, a GW43, an MP44 and the PPsh. All (except the PPsh, which only has a separate drum magazine) have separate bolts and ammo magazines (or stripper clips in the case of the '98k). One MP40 has a separate wire stock, while all can be fitted with opened or closed bolt assemblies. The icing on the cake is exquisitely-rendered opened fore-sights on the various weapons, as well as opened gun barrel bores.
Personal equipment is molded in both traditional hard styrene (as are the figures themselves) as well as DS-100 soft styrene. The former includes helmets (with full rivet details), three-piece gas mask canisters, two piece canteens (six each) and mess tins (two each), as well as single-piece mess tins, entrenching tools, and bayonets (six each). Some nice options are a bayonet with separate frog, a folding shovel with separate handle and binoculars with pre-bored front lens elements plus separate rear lens cover. In DS-100 soft styrene, DML has provided the following: three different opened and closed pistol holsters (for a total of six), eight gas cape pouches, four rolled Zeltbahns, eight bread-bags, three pairs of GW43 magazine pouches, five pairs of Kar98k pouches, three pairs of MP40 pouches and three pairs of MP44 pouches. Each of the ammo pouches has one pair in the opened configuration. The final items are a map case and a tool case for the MG42.
The instructions are in full color and are keyed to Gunze and Testors Model Master colors. Typically, they leave something un-clear for the modeler, in this case how the bolts are fitted to all weapons. References will help here. While I am in nit-pick mode, I will also mention one major (and one minor) shortcoming of this set. With all the attention DML has lavished on the detail of the various weapons, and their wide use of photo-etched detail parts, where are the slings for them? The gas mask canisters and binoculars could use them as well. That's what I consider the "major" gripe. On the plus side, Eduard recently released a pre-colored set of slings which I plan to use on these fellows, so all is not lost. The "minor" gripe concerns decals for various insignia, such as collar tabs. Granted, only two of the figures would need them, but their inclusion would save quite a bit of work (and they did include some decals with their recent Georgian Volunteer legion figure set, for their unique unit crest, so there is a precedent).
All of that aside, I look forward to the next Gen2 figure sets from DML and hope that they do not ignore Allied figures as well as other Axis countries. Those that admire quality will do well to get a set of these guys, while those who "like German stuff" are duty-bound to do so!
Highly recommended.
Reviewer's note: Since May of 2005, I have been working on books for Concord Publications, a sister company to DML. The reader may wish to take this into consideration. For my part, I will attempt to maintain an objective viewpoint when writing these reviews.
DML kits are available from retail and mail order shops. For details see their web site at: www.dragonmodelsltd.com.