Warriors German U Boat Crew set 3 (WA72008)
by Mark Bannerman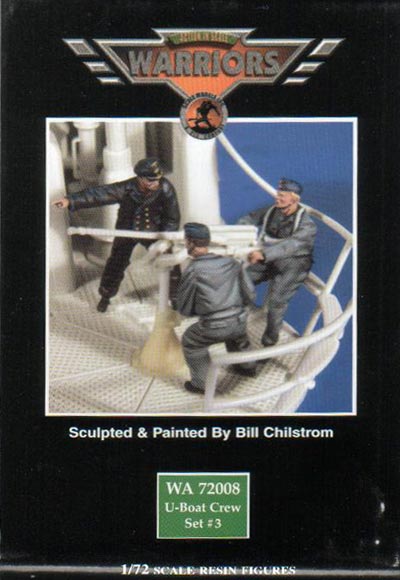 This is my first time I have had an opportunity to study and look over a set of 1/72 resin figures by Warriors. And this is amazing stuff. Sculpting and casting has come a long way since those Airfix 1/72-scale plastic Napoleonic figures. These are incredible!
This set is the third in a series and includes three figures - a gunner, a loader, and an officer instructing the two manning the gun. First, I must say that the level of detail is beyond what I would have expected in this scale. The hands and facial details are clear and very well sculpted. The heads have enough detail that these can be painted to bring out the characteristics sculpted on the face, The folds, the boots and small uniform detail is quite remarkable.
The figures are cast in a crisp light yellow resin, and each comes with separate arms, and head with the exception of the loader that has arms attached to body. Some clean up of flash is required and similar to 1/35th scale figures, the resin carriers are located under two of the figures' boots. On the gunner, a carrier plug is situated across his upper torso but I found that it was easily removed and left very little in the way of marks. A little sand paper will do the trick nicely. There are very few seam lines and removal of flash is quite simple with an Xacto knife. The quality of the casting is very good.
I never took notice of this particular scale before and this set has opened my eyes to what is out there in the way of small scale resin figures. This smaller series will be particularly interesting to watch in future in light of recent releases of smaller scale armour (i.e. 1/72nd and 1/48th).
A really superb 'eye-opening' set and another fine release from Warriors.
Thanks to Bob Letterman for supplying the review samples