Warriors USMC Conference Set 1 (WA35566)
by Mark Bannerman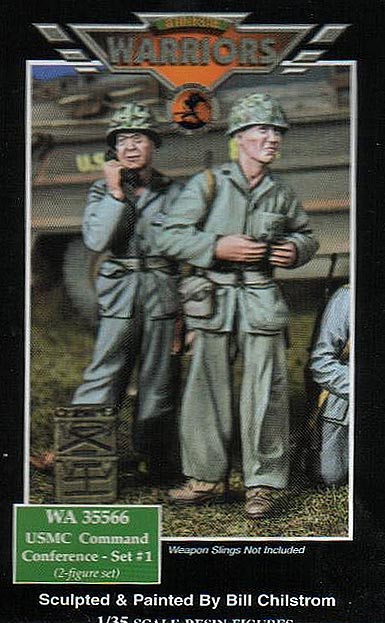 I have just received Warrior's latest figure release set containing figures of two USMC in a command conference (WA 35566). The set depicts two standing figures - one on a radio while the other is holding a set of binoculars. The figures are cast in a crisp light yellow resin, and each comes with separate arms, head, and rifle. Some clean up of flash is required and resin plugs are conveniently located under the figures' boots which is extremely helpful in minimizing the clean up process. There are very few seam lines and removal of these is a cinch. The quality of the sculpting is exceptional and the subject matter is well done.
I particularly like the attention to the folds in the trousers of the radio operator. The head is nicely done with special attention to fine detail on helmet cover. In particular, this figure has his heel dug in the ground with his foot presumably resting on an object or just in a very relaxed pose. A well detailed radio is included with this figure. A bit of flash on the inner legs which is typical of the casting process. The only drawback is that there is some clean up required on the back left leg as a result of the casting process.
The second figure in the set is also very well done and I particular like the realistic twist at the torso and again the special attention to the folds in the trousers and shirt. This figure is holding a set of binoculars which are molded into the hands and casted separately from the arms. The head is very nicely done and has an air of deviance reminiscent of Patton!
Very nice set and I look forward to seeing more of Bill Chillstrom's work soon,
Thanks to Bob Letterman for supplying the review samples