Warriors USMC Conference Set 2 (WA35567)
by Mark Bannerman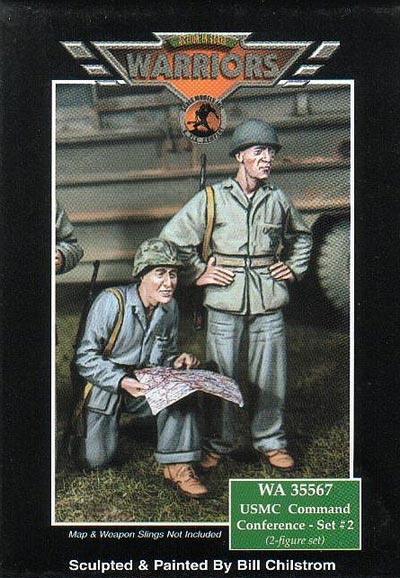 The latest two-figure set has just arrived and serves as a compliment to set Warriors WA35566 USMC Command Conference Set 1.
The set depicts a USMC standing officer with his arms on his hips and the other figure down on one knee studying a map. Both figures are cast in a vanilla colored resin, and each figure comes with separate arms, head, and rifle. Some minor clean up of flash is required. In fact, the flash is so light it can be quickly removed with the rub of an old toothbrush. A little more vigorous clean-up will be required on the standing figures left leg with a spot of sand paper.
The detail on both of figures is typical of Warriors and the clothing is very well done. I like the small attention to detail such as the rolled up trousers on the kneeling figure. The kneeling figure's head is quite animated and full of character which should really bring the figure alive. I can visualize many conversion possibilities for either of these figures by only modifying the arms.
This is another offering by one of my favorite sculptors – Bill Chilstrom - and I always enjoy his figures. Yet again, a very appealing offering for both the novice and experienced painter alike.
Thanks to Bob Letterman for supplying the review samples