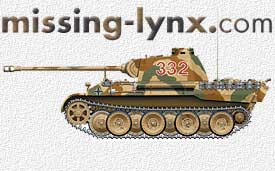 Dreaded Threat - The 8.8 cm Flak 18/36/37 in the anti-tank role
John Prigent
DREADED THREAT, the 8.8 cm Flak 18/36/37 in the anti-tank role, by Thomas L Jentz, ISBN 0-9708407-0-5, US$17.95, Panzer Tracts, P.O. Box 334, Boyds, MD 20841.
This is a splendid reference to the "88" in its ground role, with 54 pages covering all you could possibly want to know. Again, Tom has used the surviving records in the German archives to produce a really authoritative text.
The 15-page first section covers the development of the 8.8 cm Flak guns from 1928 onwards, with technical details, 6 pages of plans of the Flak 18 version, and some nice clear photographs. Then comes its use as a bunker-buster, covered in 9 pages and including 8 photographs of the self-propelled, armoured Flak 18 on 12-tonne halftrack SdKfz 8 (this is not the version coming soon from ABM as a conversion for the Tamiya Famo, that was only used in the anti-aircraft role and is covered in Panzer Tracts 12) as well as one of the armoured 8-tonne halftrack used as a towing vehicle. Here we get great detail of how the guns were to be used and which units got the SPs and the armoured tractors.
Section 3 has 6 pages on the "88"'s use against tanks in the 1940 French campaign, mostly a long combat report from a Luftwaffe unit equipped with the unarmoured guns. Here there are five more photos of the armoured tractor! The eight pages of section 4 cover its use against Russian tanks, again mostly combat reports but this time from 1941. Section 5 has 14 pages of combat reports on its use against British tanks in North Africa. Both these sections include more photographs of Flak 18s, 36s and 37s in the ground role.
This book is a fascinating read, its only drawback being that many readers will wish for plans of the Flak 36 and 37, the two trailer carriages used and of course the SP and the armoured tractor. But its really not a book for modellers to work from, more a source of inspiration and information and as such I can't be faulted. If anyone ever produces a kit or conversion for the SP or armoured tractor, you'll need Dreaded Threat to check their details! Highly recommended.