Aber Sd.Kfz.181 Pz.Kpfw.VI (P), Vol. 1 (35175)
by Frank De Sisto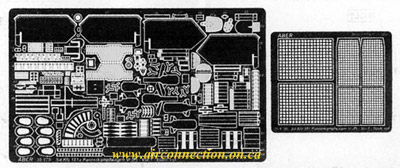 Basic set for DML kit. 1/35th-scale photo-etched brass. Price: $22.99 USD, $27.99 CDN.
In typical fashion, Aber presents an amazing amount of detail suited to the more advanced modeler. The usual things such as working tool clamps have been supplemented with such things as parts to completely re-build the ends for the tow cables (as well as new parts for the cable stowage clamps and brackets), parts to create working hinges for the replacement front and rear mud guards, and parts to create a completely new vehicle jack (using sheet styrene that's to be sourced by the modeler).
New details are also provided for the turret bustle stowage bin to include locks and hasps, as well as a new system to attach it to the turret. The commander's cupola receives new details to depict the tiny drainage holes around its circumference, a new smoke candle holder, and full internal details for its lid, as well as for the loader's hatch lid. The fenders receive new braces as well as mounts and other parts to create the station-keeping tail lamp. There are a host of other small detail parts and finally, complete mesh screens for the four engine deck grills.
As is Aber's custom, a second set is available for this kit, which will allow the modeler to create completely new fenders, as well as an after-market 8.8cm gun and turret bustle stowage bin. In the final analysis, this detail set will allow the more skilled modeler to produce a museum-quality replica. Those that are less-familiar with the use of etched brass parts may wish to approach this item with some respect.
Recommended.
Aber products are available in North America from AirConnection at: www.airconnection.on.ca. Elsewhere see: www.aber.net.pl for details.