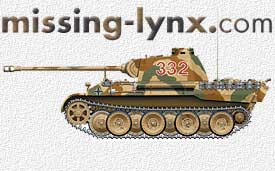 AJ Press Panther vol. 3
Andrew Dextras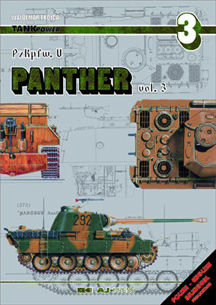 The latest release in this series of books from Poland that focuses on the German Panther tanks and it's variants is the largest in the series so far. The bulk of it's 170 pages mainly covers the Ausf. D version of the Panther with a short section on the Bergepanther Ausf. A at the front of the book. As with volumes 1&2, the main strength of volume 3 is the enormous amount of line drawings covering pretty well every conceivable variant or sub-type of the vehicle being examined.
The drawings themselves cover in great detail the many changes that occured during Panther Ausf. D production. Different tool stowage, smoke dischargers, wheel bolts, turret shape (on the prototypes), turret MG ring etc. are clearly shown. The Bergepanther section also charts the changes in production and shows the changes in superstructure, spade type and general vehicle stowage. At the end of the Ausf. D section there is a series of handy comparison drawings which show the different turrets from multiple angles as well as a comparison of roadwheel/drive sprocket types. A very useful reference tool as it allows the modeller to identify changes to the design without having to search through the whole book in order to track them.
In addition to the pile of CAD drawings, the book also features some very nice production, museum and action photos. The production photos are amongst the clearest I have ever seen and show some very good internal detail, especially the torsion bar setup. The museum photos focus on the unrestored Ausf. D in Breda, the images are in full colour. The action photos are the most interesting of the bunch. There is a very blurry, but also rare image of a Bergepanther with some sort of extra superstructure retrieving a Tiger I which has the 2 ton jib assembled on it's turret. There is also a very unique vehicle from Panzer-Versuch und Ersatz Abteilung 300 (fkl) which was used as a training vehicle. What makes this Panther D unique is that it ran on natural gas fuel by 6 large tanks on it's engine deck and had a different turret design. The authors have provided detailed line drawings of this as well in case any modellers wish to scratchbuild these features on this unique Panther.
The book ends with some helpful hints and kit reference numbers, including aftermarket products, to help the modeller detail a Bergepanther or Panther D. As a bonus, there are several photos of the Panther Ausf. G modelled by Missing Links contributor Mirko Bayerl. A nice way to end a very good book.
Highly recommended!
AJ Press books can be purchased from Airconnection, the North American distributor/importer.