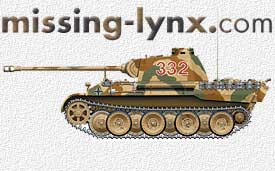 AJ Press Panther vol. 4
Andrew Dextras
The book is latest release in this series from Poland that focuses on the German Panther tanks and it's variants. The bulk of it's 114 pages mainly covers the Ausf. A version of the Panther with a 42 page section on the Bergepanther Ausf. G at the front of the book. As with other 3 volumes in this series, the main strength of volume 4 is the enormous amount of line drawings covering pretty well every conceivable variant or sub-type of the vehicle being examined.
The drawings themselves cover in great detail the changes that occured during Panther Ausf. A production. A nice section on the technical charateristics of the Panzther Ausf. A is included. This section deals mostly with the turret and it's subassemblies. A small section on tank workshop companies follows which ties in directly with the full out poster that is included with this volume. The fold out poster includes drawings of the Fries 16t gantry crane in both working and travel configurations. On the reverse side it includes a Bussing Nag 4500 with 3 ton crane, Panther Ausf. G, Bergepanther and Panther Ausf. D all in 1/35 scale CAD drawings. This is a nice little bonus.
In addition to the large amount of CAD drawings, the book also features some very nice production, museum and action photos. The Bergepanther action images are very nice including some late war scenes of the Berge towing a Tiger II. The Panther Ausf. A images include some very crisp factory fresh photos as well as some nice in action shots.
In my opinion the best feature of the book is near the back devoted to 10 pages of nice clear colour detail shots of museum examples. The closeup images of the Bergepanther winch and interior make this book a must have for anyone thinking building a Bergepanther.
AJ Press books can be purchased from AirConnection, the North American distributor/importer.