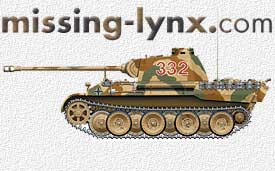 Achtung Panzer! German Tanks at War 1939-45 CD-Rom
Peter Brown
Achtung Panzer! German Tanks at War 1939-45 Interactive CD-ROM Enclyclopedia compatible with Windows and MAC from Cromwell Productions Ltd, Warwickshire. Web site history-zone.com email crom@compuserve.com Reference APCD-1 Price £19.99
Publishing information on CD-ROM allows the different media of text, photographs, drawings, sound and moving images to be combined together in one package, which is what is done here. It may be best described as an offline web-site. Each of the various parts are laid out in a set format from which the viewer can jump to other areas using inbuilt links in the same way which they would move back and forth through a book to find more details on specific areas. Text can also be printed for later reference.
The interface here is well done and all the necessary supporting software is included on the disc. Just by clicking the mouse you can move between articles on the vehicles and their use, look at archive photos and film sequences including computer-generated images, and ask the opinions of experts including the Tank Museum's David Fletcher and Aberdeen Proving Ground's Dr William F Atwater. The downside is that the information provided is, as would be expected from an encyclopaedia, more general than detailed. Vehicles are studied by type - tanks, assault and self-propelled guns and tank hunters - with short articles on each one which has nothing to add to what even a basic reference book would include. Some annoying errors have been included which could have been edited out before the product was produced, including details of the experts who have contributed on the sleeve notes. Not all vehicles are covered, for example while we have Maus I did not find the late-type Pz I Ausf F for instance, while armoured cars and halftracks are not covered at all. Each section has a video sequence which is taken from the maker's video series, when this is shown as a sub-screen on a computer it does not appear very clear. The photo sections are disappointing, all are archive black and white shots, there are only a few for each vehicle, several are not clear and have a re-screened look and many are cropped with gun barrels and the rear of the vehicle missing. Individual captions are not included, so there are no details of the subtype or when and where the photo was taken and the section on Bergepanzers consists of two photos of the Leopard 1 ARV! Separate details are included on organisation, campaigns and battles fought, production figures by each vehicle and year. Images of the main uniforms and accounts tactics taken from a late-WW2 US Army manual.
Expert commentary takes the form of still photos of the subject in question alongside photos of the expert with a spoken commentary by them. There is also background music, two contemporary songs can be selected but there is an option to switch them off which many will soon do. The search facility provided is patchy in performance, while it will find words from the text and let you to jump to the section it is in, looking for "uniforms" goes not lead to the section them being found.
To summarise, the basic idea and format is good. Some improvements in the content and additional work on links and searches would make it all better in execution. The final result though is a study which is not in any depth, it may have some appeal to a younger enthusiast thought its initial appeal may soon pall and those seriously interested in Panzers would find more better basic information in a few good books such as the classic "Encyclopedia of German Tanks of World War Two" by Chamberlain, Doyle and Jentz and far more detail in Tom Jentz's books. The bibliography section of the CD-ROM is itself not much help here, many of the better and more recent works which even I as someone not very interested in Panzers have in my collection are not even listed.