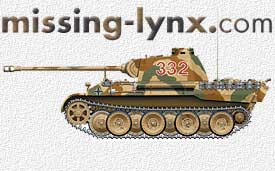 Armada #6: Camouflage of German Technology 1941-1945

Cookie Sewell

Book Review: Armada "Vertikal" Series Number 6; Camouflage of German Technology 1941-1945 by Maksim Kolomiyets and Il'ya Moshchanskiy, Exprint Publications, 1999, 48 pp.; available from Eastern Front Hobbies for $14 plus $3.50 shipping and handling, Eastern Front Hobbies, PO Box 783, Madison, Alabama 35758

Advantages: lots of good photos of destroyed German equipment; tri-lingual color conversion charts for modelers; mostly fresh, new photo material

Disadvantages: only captions in English; material covered elsewhere in the West (this book was designed primarily for a Russian-speaking audience, who have had little access to native language publications on this subject)

Rating: Highly Recommended

Recommedation: for German and Russian armor fans

This book may not enjoy a wide audience in the West as there are a number of more thorough treatises on German markings and camouflage which have been available here, but it really should not be overlooked. While the text is 95% in Russian (the remainder being split between German and English) it presents around 125 good, clear photos of German equipment. Most of the equipment is destroyed, but at least it is not burned out, and the markings and camouflage schemes are clearly and cleanly presented for the reader. For "Ferdinand" (Elefant) fans, there are a good number of photos of different schemes of machines knocked out at Kursk in 1943. While the Russians did not translate the German units, they did present them in German, so German fans will not have a problem with "who's who" in the photos.

Overall, this is a good book for the collection of most German armor modelers and fans as it provides a different look at their armor, from the eyes of the people who beat them. Ten color plates are also included on the inside covers.