Armor Battles of the Waffen-SS 1943–45
by Will Fey (translated by Henri Henschler)
Published by Stackpole Books, Pennsylvania USA, 2004, ISBN number 0-8117-2905-2. Paperback, 374 pages.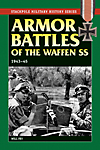 Author Will Fey started his combat career in the German Wehrmacht as an anti-tank gunner with the 52nd Infantry Division. After being severely wounded early in the war, he transferred to a heavy tank battalion (102) of the Waffen-SS, eventually commanding Tigers. His wartime career ended in the last battles around Berlin commanding a group of tank destroyers. The highly decorated (including the Knight's Cross) Fey later joined the Federal German Armed Forces after the war, and served until 1973. Afterwards, he worked in various capacities in cooperation with NATO's military organizations.
First Published in 1990 in a larger format by J.J Federowicz, Armor Battles of the Waffen-SS is a compilation of wartime tales from Fey and also many other members of the Waffen-SS Panzer crews. Although the earlier publication included hundreds of photographs, the more affordable Stackpole publication does have 38 photos and numerous maps and diagrams. The various dramas written by the men who fought in the tenacious battles from 1943-45 are vividly described, and allow the reader to feel the struggle and sacrifices made on the battlefields of both Eastern and Western fronts.
The modeller will find the tales most interesting as in some cases specific vehicles are referred to. One such example would be the battle including the Tiger tank that Micheal Wittmann was killed in, which Fey devotes a fair amount of text to. Unfortunately the related Cintheaux area map that the text refers to is not included in this book, an oversight on the part of the publisher.
Nevertheless, both modellers and tank enthusiasts will find this book extremely informative and entertaining and a fine tribute to the soldiers (both Allied and Axis) who took part in the battles.
The book can be purchased from Stackpole's website www.stackpolebooks.com, Amazon, and most major bookstores.
Gary Edmundson