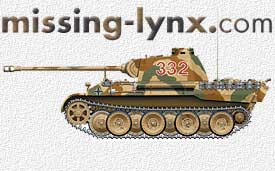 Friulmodel ATL-52 Panzer II Ausf. D Early tracks
Andrew Dextras
Crisply cast in their usual white metal and using the new pinned assembly system, this workable individual track set is intended to fit the new Alan Panzer II D series which consists of the Panzer II Ausf. D, Flammpanzer II Ausf. D and the Marder II Ausf. D. The set could also be used for the older Ironside resin kits, which come with Modelkasten non-workable tracks.
These particular tracks are the early style which closely resemble the 36cm Panzer III/IV tracks in both general appearance (although narrower) and are differentiated from the later IID tracks by the lack of ice spud insert holes on each track face. I have only seen one image of these early tracks on a Marder IID, so they may be more appropriate for a Panzer IID or Flammpanzer IID. The set contains 230 links which will allow you to build the 2 tracks runs as well as plenty of spare links for the hull front.
Highly recommended.
Friulmodel tracks North American distributor is Chesapeake Model Designs.