Bison Decals Pz.Kpfw. I Ausf. A/B/F (VK 16.01) und BefhelsPz. I Ausf. B. (BD-35016)
by Frank De Sisto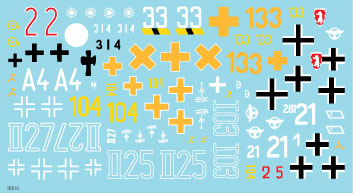 Water-slide decal sheet in 1/35th-scale. Price: $9.00 USD, plus shipping.
Fans of the Pz.Kpw. I series have been well served over the years. Initally, Italeri gave modelers an Ausf. B, a Bef.Pz. Ausf. B and a Pzjgr. I Ausf B. From Eastern Europe came the Ausf. A, Bison I, and Ausf. F. Most recently, Tristar have produced two different state-of-the-art Pz.Kpw. I Ausf. As, and DML have come up with very well-done Pzkpw. I Ausf. B and Bef.Pz. I Ausf B, both of which also come in a "Tropen" version (for use by the Afrika Korps). Need I mention that a tailored after-market sheet for these tanks is an idea whose time has come?
I hope not! I assume that Bison also thinks the time has come as well. This new sheet contains markings for no less than 12 complete models. They include four Ausf. A (Reichswehr pre-war, Chinese Army, two Wehrmacht); five Ausf. B (all Wehrmacht, including three in Poland, 1939; two from the Afrika Korps, and one in Russia, 1941); two Ausf. F (one Wehrmacht and one Polizei), and finally a Bef.Pz. Ausf. B of the DAK. These are great choices and provide for just about every conceivable theater and scheme seen on these vehicles. The only real fault I can see is that most of the colors listed are substantially incorrect. According to the several-years-old information in Panzertracts 1-2, the colors of pre-war Reichswehr tanks should be Nrs. 17, 18 and 28, yellow/brown/green; Polish and Norwegian Campaign tanks are two-tone brown/grey, Nrs.45 and 46; DAK tanks are two-tone RAL 8000 yellow-brown and 7008 grey-green, over the original RAL 7021 dark grey. I cannot recommend this Panzertracts title enough, for those interested in pre-and early-war Panzer colors. Everything else you have ever read is essentially hogwash.
The quality of the decals themselves is first-class, as the US firm Microscale is the printer. This ensures that color saturation, registration and detail is first-class. The subjects included are all very colorful, allowing the modeler to have a collection of rather unique or unusual vehicles (the Chinese and pre-war tanks come to mind). The instructions include at least three views of each vehicle, as well as the occasional detail of a particular area. Each drawing is large enough to supply enough information to the modeler, but just in case more is needed, simply log on to Bison's web site where you will find excellent full-color supplementary images. The instruction sheets are on one and one-half A4-sized sheets of paper and include in-print and on-line references, although the former are quite "dated" and are superceded by the Panzertracts title previously mentioned.
Overall, this is a well-researched product that includes an exceptional variety of choices. Your "petite-Panzer" will look quite fine dressed in these markings.
Highly recommended.
Bison products are available at retail and mail order shops and directly from the manufacturer at: www.angelfire.com/pro/bison. Visit their web site for images of reviewed items.