Bison Decals Pz.Kpfw. I Variants Pz.Jager IB (BD-35017)
by Frank De Sisto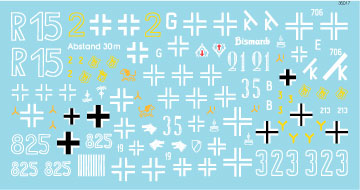 Water-slide decal sheet in 1/35th-scale. Price: $9.00 USD, plus shipping.
A logical follow-up to the previously-reviewed item on "straight" Pz.Kpw. I tanks, is this new sheet, which is concerned with Pz.Kpw. I variants (Isn't this why German subjects fascinate? You know, the sheer variety). These include the Pz.Jgr. I Ausf.B (five), Bison I (two), Flak.Pz. I (two), Munitionsschlepper I Ausf. B (one), Flammpanzer I Ausf. A (one), Pioneer.Pz./Ladungsleger I Ausf. B (two). There are a total of 13 vehicles for which markings are included. Not bad for the asking price!
With so many unusual (as well as "normal") variants presented, you just know the markings are going to be as different as Bison can make them. So, there are markings for vehicles seen in the following locations/campaigns: France, Russia and North Africa. This includes mostly Heer tanks, but there is also a single SS Pz.Jgr. I Ausf. B included.
This sheet contains the same good and not-so-good points as mentioned in the review for sheet BD-35016. They are: excellent printing, registration, color saturation and details; well-presented instructions with more-than-adequate drawings and reference notes. The markings that I could confirm are accurate according to my references. The color notes are mostly well-done, but the prospective modeler of Pz.Kpw.I variants may wish to purchase the Panzertracts book (Vol. 1-2) for more details on the correct colors of these early-war Panzers.
Overall, this set offers excellent value-for-money since several variants can be marked with what's given, without repetition. The accuracy and quality are there as well, something that many modelers will appreciate.
Highly recommended.
Bison products are available at retail and mail order shops and directly from the manufacturer at: www.angelfire.com/pro/bison. Visit their web site for images of reviewed items.