Bison Decals Tiger I s.Pz.Abt. 502 Initial/Early/Mid on the Leningrad and Baltic Fronts (BD 35022)
by Frank De Sisto
1/35-scale water-slide decals for ten tanks. Price: $9.00 USD.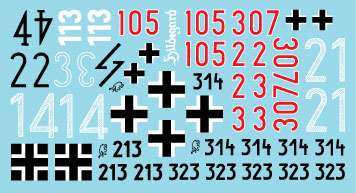 All of the markings on this sheet are tailored for the Tiger Is of s.Pz.Abt. 502 from the tank's introduction during the winter of 1942, through the spring of 1944.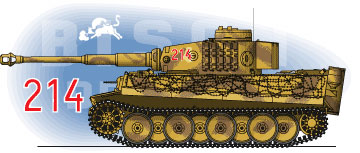 The vehicles for which there are specific markings include:
• Black 1, 2 and 4 (large characters).
• White outline with cross-hatch filling (large characters), 21.
• White outline with cross-hatch filling (large characters), 14, red/white outline 3 or white 113 (three sets of markings for the same tank at different times).
• Black 213, 314 and 323 (medium sized numbers in five positions).
• Red/white 307 and 105.
The color schemes given offer quite a variety such as overall dunkelgrau, dunkelgrau with whitewash, overall dunkelgelb, dunkelgelb with oversprayed dunkelgrun and rotbrun, and the last with a whitewash. The national insignia also offer variety, being oversized with some on a black square background. The Mammut insignia of the unit is also given as is a name for one Tiger, Hildegard.
The waterslide decals are printed by Microscale and have excellent register and color saturation, and feature crisp edges. The instructions are well-done, but references will be helpful. This set will be especially welcome for those who might own the recent DML initial production Tiger I, as it provides some variety in markings for an otherwise bland-looking tank.
Recommended.
Bison products are available at retail and mail order shops and directly from the manufacturer at: www.angelfire.com/pro/bison. Visit their website for images of reviewed items.