Bison Decals Tiki and other Tigers of the 2. SS-Pz.Div. "Das Reich" (BD-35019)
by Frank De Sisto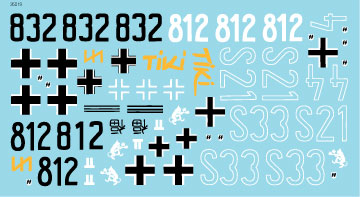 Water-slide decal sheet in 1/35th-scale. Price: $9.00 USD, plus shipping.
Ah, the Tiger I. There are more kits of this tank available than you can shake a stick at, with new ones from DML, AFV Club, Skybow and Tamiya coming out almost monthly. This new sheet will mark a specific group of early production Tiger Is as crewed by members of the 8. s.Pz.Kp./s.SS-Pz.Kp. from the 2.SS Panzer Division "Das Reich", during 1943 and 1944, on the Eastern Front. Featured is "Tiki" in three different guises (tac # white 812, black 812 and S34), as well as five other Tigers (S33 with Chinese good luck glyph, S13, S21 and S24, and black 832). So although there are markings for five complete Tigers as stated on the instructions, the options actually allow for eight variations. Not too bad considering that there are Tiger fans who build all sorts of variations. The markings range from those seen in early 1943, including winter whitewashed tanks, to two-and three-tone tanks as seen at Kursk. For the latter, the special divisional insignia (a horizontal bar with two vertical bars attached) is given as are the small Gnome figures seen on the turrets of the Tigers. These are quite interesting and fairly colorful. A final touch are the small white shields with the SS runes for the crew's externally-stowed helmets, but curiously, there are no swastikas on the red/white shield for the helmet's opposite sides. Perhaps that last tiny glitch is due to European law.
As is the custom with this manufacturer, the decals are printed by Microscale in the USA, which (as usual) means that registration, detail and color saturation is outstanding. The carrier film is very thin and will react well to solvents and setting solutions. The instructions are clearly-drawn and include three views (plus an occasional detail drawing) for the five basic schemes. The three sub-variations are each covered by a profile of the turret, and will require that some tac numbers be cut apart to be "mixed and matched". The markings compare well to references that I own, but the actual colors on the Kursk Tigers can be debated as to their specifics, since they are based on contemporary black and white photographs and their interpretation by post-war enthusiasts. The manufacturer alludes to this in the instructions, which is refreshing.
Altogether, this set should prove to be very popular, especially with the upcoming DML kit not too far off.
Highly recommended.
Bison products are available at retail and mail order shops and directly from the manufacturer at: www.angelfire.com/pro/bison. Visit their web site for images of reviewed items.