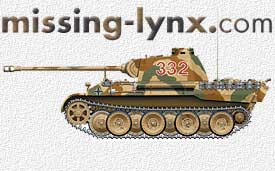 Panzers Marsch! & Die Artillierie Videos

Peter Brown

Panzers - Marsch and Die Artllierie. VHS videos codes CHR034 and CHR035 from Chronos. Both approx 60 minutes long. UK price £14.95 each. Available through Chronos UK, Studio J401, Tower Bridge Complex, 100 Clements Road, London, SE16 4DG, England, email chronos@callnetuk.com. UK VHS format, price £14.95 each plus postage as appropriate. American NTSC format should be available from Squadron Mail Order, 1115 Crowley Drive, Carrollton, Texas 75011-5010 (phone (092) 242-8663, fax (972) 232-3775, email mailorder@squadron.com) at $29.98 plus postage $4.75

These tapes are produced in the same format as the "Die Deutschen Panzer"series using wartime German footage with English voice-overs.

"Panzers - Marsch!" is in a different format to the series, and uses two sources of material. The first is newsreel film with sections showing tanks in action during Operation Zitadelle and the withdrawal to the Dniepr. This include early Tigers and the voice over contains a contemporary war correspondent's account of them in action from a German. Various other German vehicles appear as well as Russian AFVs in various stages of destruction. Additional short sequences show what is claimed as the only known film of Pz IV/70(V) and late Brummbar, and film from the Battle of the Bulge which has appeared as stills in several publications. The main part of the tape is two training films which allow insights not only into vehicles but the German army's tactics as well. One concentrated on early Panthers showing how to attack a Russian defended position and counter the methods the Red Army used against attacking tanks. This of course shows these tactics as well. The "Russians" are clothed and equipped realistically but their actions owe more to method acting than battle tactics. That apart, the film demonstrates changing damaged vision blocks under fire alongside the use of grenades, machine guns and fire extinguishers and the method of collapsing trenches where tank hunter teams would lie hidden to attack the tanks from behind. Second film shows Panzergrenadiers planning and executing a counter attack against the Russians. Several SdKfz 251 supported by Jadgpanzer IV and SdKfz 251/16 Flammpanzerwagen show the approved text-book methods. Methods of concealing vehicles and scouting and marking routes are also show. The planning and orders lead to the group attacking with the halftracks taking the troops forward to leap from their from their vehicles to engage in hand to hand combat, supported by their own weapons and the tank destroyers. Now cut off, the Russians are mopped up using the flamethrowers and the lessons are summarised using an animated map.

"Die Artillerie" shows the whole range of artillery used by German ground troops during WW2. It concentrates on towed weapons - self propelled ones have already been covered - with film from all theatres of war. Background details tell how the rearmament was planned withing the restrictions of the Versailles Treaty, then each type is shown in detail. These range from infantry guns from the 75mm IG18 with its odd breech system and the larger 150mm model, to the standard 105mm and heavier field guns on up larger calibres to the rails guns such as the K5E. Sequences also includes guns on the Atlantic Wall using film original German audiences were told showed the Allied landings being repulsed. Antitank guns also cover the whole range from 37mm, 50mm and 75mm as well as anti aircraft guns with 20mm single and quad and the larger 37mm series in the hands of Luftwaffe field units in use against aircraft and ground targets. There is a lot of footage of the well-known "88" in all its roles, from pure anti aircraft gun used against Allied bombers and its anti tank as well as a general support roles on all fronts. This includes a rare view on the 41/43 type. Almost all the film is black and white, but it does have some colour footage which shows light flak guns and 88s in action and one sequence were a horse-drawn Pak 40 is brought into action in grand style. Both tapes show contain much of interesting film with informative captions. Seen as research material for models in its own right they make good companions to the original series.