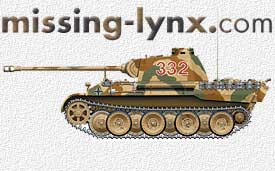 Chesapeake Model Designs # 27A July 1945 Tiger II Conversion

Bob Lessels

FINALLY!! Chesapeake Model Designs has released kit CMD-27A, the July 1945 Tiger II conversion for use with Tamiya's King Tiger/Tiger II kit (either the Porsche or Henschel kit can be used as the basis for the conversion). CMD-27A includes everything the modeler will need except for the Fruilmodellismo ATL-37 late style track and 18-tooth drive sprockets proposed for this huge panzer.

Field experience with the Tiger II led to a number of proposed modifications to the standard production Tiger II which were to have been introduced in the summer of 1945. These included a raised turret roof to accommodate an internal range finder, cooling air louvers on the rear engine deck to replace the vulnerable large grille openings, a cover for the engine compartment vent on the rear deck, three-piece hatch for the motor compartment, the use of a Sturmgewehr 44 instead of a MG 34 in the glacis ball mount, and use of an MG 42 in place of a MG34 in the co-axial turret MG mount.

With kit CMD-27A the modeler gets: a hollow cast turret top with locating points for installing five camoflage attachment loops on either side (the loops are to be made with fine wire, not included with the kit), a turret bottom plate , gun pedestal, late style mantlet, turned aluminum late style 88mm gun barrel, 7 cupola periscopes, cupola ring, cupola hatch, cupola hatch hinge arm, escape hatch, 20 spare track support hangers, 10 spare track support locks, 2 radiator fans, a front engine access hatch, a middle engine access hatch, a rear engine access hatch, 3 engine access hatch locking handles, 3 engine deck air vent covers, 10 upper hull lifting plates, a loader's periscope, a driver's hatch, a co-driver's hatch, glacis plate ball mount for the Sturmgewehr 44, and an entire upper hull with the cooling air louvers molded in place. The resin fans fit on the underside of the hull to blank off the view though the holes in the two raised fan grilles.

Price for this significant hunk of finely detailed resin is $40 plus $3.20 priority postage per order (not per kit). It is available through CMD, PO Box 393, Monkton, MD 21111 or Phone/Fax (410) 357-5496, web site http://www.cmdmodels.com and its dealers, including http://www.easternfronthobbies.com. Highly recommended for WWII fans, SGFslike myself, fans of Fantasy Panzers, and those who enjoy building something a bit off the beaten path.