March of the Death's Head Division
by Paul Thomas, with color plates by Stephen Andrew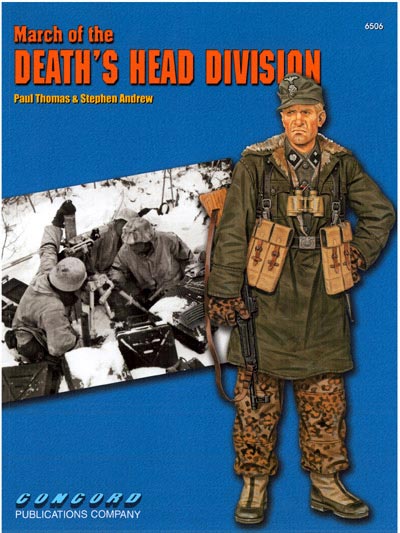 CONCORD PUBLICATIONS 6506, ISBN 962-361-687-2. Price: $ USD.
In recent years, it has become apparent that Concord has come upon the "mother-lode" of photographs taken on the Eastern Front during the years from 1939 through 1945. This, and many other books (including some that I am currently at work on) continue to bring these mostly un-published photographs to the interested reader in a well-presented and economical form.
This book attempts to chronicle the exploits of the 3. SS-Division during its service in Poland, France and the Ost Front, during World War Two. Containing four color plates and 147 B&W photos, the graphic contents of the book are more than acceptable. The photos cover an interesting range of situations, men, weapons, equipment and vehicles, including AFVs. The four plates by Mr. Andrew are in a competent style and clearly present various features of dress, equipment and weaponry. The captions that accompany the plates, also written by Mr. Andrew, are informative and well-written. For the most part, the photo captions (which I assume are from the keyboard of Mr. Thomas) are also well done, but there are some goofs here and there.
For instance, one photograph is used twice (p. 16, bottom and p. 34, bottom) with captions that describe the photo as dating from either 1942 or 1943. Which is it? A photo on page 15, bottom is also mis-captioned, where it describes the ammunition for a PaK36. Another photo is of an Army, not SS motorcycle (p. 40, top). Another depicts a PaK38, but is captioned as being a PaK40 (p.41, top). There are also a few other photos where the argument can be made that those troops (or AFVs) depicted are not members of the SS.
The text is somewhat befuddled and does not adequately describe the poor character of the division's early combat performance (mostly due to poor training and the desire of its quite ruthless commander, Eicke, to "make a name" for himself), or the many atrocities committed in France against British and French Moroccan troops. The division's conversion into a Panzergrenadier Division (November 1942), is not mentioned in the text at all, while its re-equipment as a Panzer Division (November 1943), is given as occurring in October of that year. The former is a rather serious omission in a study of this kind, while the latter could simply be an honest mistake. Another point that should have been made was the fact that after the division surrendered to US forces at the war's end, the survivors were turned over to the Red Army. To further muddy the waters, the text section is attributed to Ian Baxter, while Tom Cockle is listed as a technical editor (which, in my humble opinion is a GOOD thing) on the book's title page. Perhaps this is a case of "too many cooks"?
Regardless, if modeling figures of SS troops (especially if you like winter uniforms) is your area of interest, this book ought to supply sufficient inspiration.
Recommended with reservations.
Frank V. De Sisto
Reviewer's note: Since May of 2005, I have been working on books for Concord Publications. The reader may wish to take this into consideration. For my part, I will attempt to maintain an objective viewpoint when writing these reviews.
Concord Publications are available from retail and mail order shops. For details see their web site at: www.concordpublications.com.