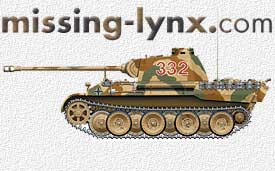 DML #6118 5cm Pak38 w/Fallschirmjager
Cookie Sewell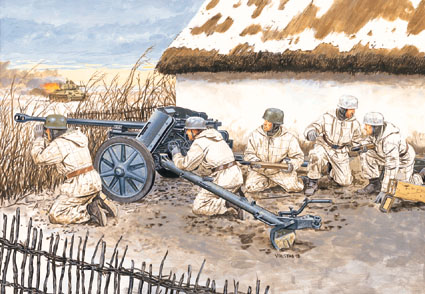 Kit Review: DML 1/35 Scale '39-'45 Series No. 6118; 5cm Pak 38 with Fallschirmjaeger; 109 parts in grey styrene; retail price around $14.95

Advantages: First styrene kit of this widely used weapon on the market; well-sculpted crew adds to quality of the kit

Disadvantages: Choice of an airborne crew tends to limit usability or suitability in some dioramas

Rating: Highly Recommended

Recommendation: For all artillery and WWII German fans

Until DML released this kit, it has been the year of the Soviet artilleryman. In point of fact, and considering how widespread the use of this highly effect little weapon was during WWII, it is surprising that it is only now that it has appeared as a kit. Too often model companies look to the "big" kits and ignore the more widely used but humble tools of war.

The Pak 38 was created in response to a need for an effective antitank gun which was foreseen as early as 1936. The weapon appeared in service in 1940, and during the bitter battles in Russia in the winter of 1941-42 it was the only pure antitank gun which was capable of defeating the Soviet T-34 tank. The weapon and its ballistics did well, with the gun being closely used to create the Kwk 42 L/60 tank gun, the BK5 aerial cannon, and the prototype Flak 214 AA gun. Even at the end of the war, this gun was capable of knocking out late-model T-34-85 and Sherman tanks, and was a respectable weapon. It was extremely light and handy for its power – at just under 2,200 pounds, it weighed 300 pounds more than the British 2 lb gun and 400 pounds less than the 6 lb gun; the only other weapon which shared its overall penetration capabilities was the Soviet ZIS-2 57mm AT gun. This weapon truly deserved the sobriquet "ubiquitous".

DML has done an excellent job of capturing this weapon, and the kit provides it as a 55 piece model. The weapon can be traversed and elevated if assembled with care, and the trails are positionable. In design and parts breakdown, it is similar to a miniature Italeri Pak 40 gun. The directions are somewhat muddled, however, and bear close scrutiny. While the trails are installed in Step 5, they are not fixed to the lower carriage until Step 8, when parts A48 are cemented in place. It seems DML wanted to leave them loose to simplify installation of the two halves of the lower gun mount in that step. Also note in Step 11 that the gun balancer (part A44) and sight assembly (part A43) are actually the trunnions for the gun, and care must therefore be taken when cementing them in place. There is one component which DML could have left loose, however: the gun aperture shield section of part A37 should be moveable with the gun, and here DML provides it as fixed in its uppermost movement position to the inner half of the gun shield itself. This will be tedious to remove, but a simple sheet styrene one can be made up and trapped in place with strip styrene if the modeler wants a more realistic shield.

The crew is typical of DML; five excellently posed figures in winter smocks and airborne helmets, with suitable kit for working the gun. An ammunition box with two loose rounds is also furnished. Photos of a finished vignette show how to set up the gun and its crew with a commander, gunner, loader, and two ammunition numbers. The figures are beautifully done, but the use of Airborne troops limits their application; the overall feeling here is either Italy 1943-44 or the Bulge, 1944-45. Replacing the helmets would probably make them suitable for Russia 1943 and onward. Since this gun was literally used everywhere, it has much broader applications, and perhaps DML will release another version with a more temperate uniform.

Overall, a great effort! Thanks to Freddie Leung of DML for the review sample.