Dragon Bergepanzer Tiger (P) in 1/35 scale (6226)
by Frank De Sisto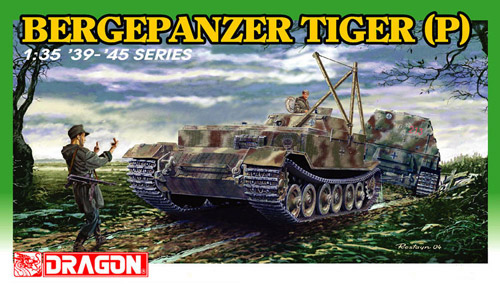 Contains: 342 styrene parts, three lengths of chain, two DS100 soft styrene track lengths, two wire tow cables, two frets of photo-etched brass, four paint schemes and eight pages of instructions in 16 steps. Price: $37.95 USD.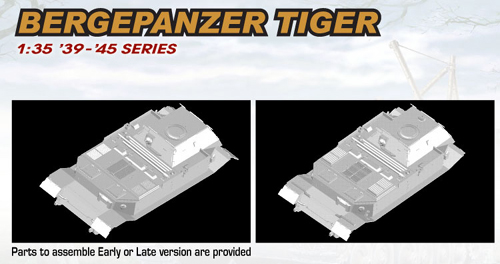 DML has always had a reputation for bringing out very unusual German subjects. And, they have also made a name at getting as much "mileage" out of a given base kit. This new kit of a very rare variation of the Tiger (P) continues that tradition.
For an overview of the suspension system and its features, I suggest the reader go to the ML review I had recently posted related to the Tiger (P). But some essentials are in order. The kit features semi-articulating suspension bogies and adjustable front sprocket, as well as DS100 glueable soft styrene tracks. All of this adds up to ease of assembly with very little in the way of compromise when it comes to detail.
The lower hull pan is straight from the Elefant/Ferdinand/Tiger (P), and is a robust one-piece molding, to which the new upper deck fits quite well. To that can be fitted two different engine deck plate configurations (early and late) as well as a crew compartment superstructure with MG34 in ball mount, pistol ports, lift hooks and vision slits. The superstructure also has an option of adding the roof-mounted remote-controlled rotating MG34 mount, as well as opened or closed roof and rear hatches. There is another option of either a semi-functional jib boom in the erected position, or the same item in the stored position. The erected jib boom is nicely detailed and features three lengths of scale chain for a fine finished appearance. Since there is also a stowed set of jib boom parts, which is a single piece, the modeler will have an extra set for use elsewhere. The only other tool of note is a finely detailed jack.
There are a number of metal items including braided wire for tow cables (with plastic ends) as well as photo-etched, nickel-plated brass for the cable mounting clamps. However, the instructions do not show how to use the etched cable mounts; there is only a general drawing that vaguely shows that the cables are mounted to the hull rear plate. New shields are provided for the rotating roof-mounted MG34 as are tie-down straps for the folded and stowed jib boom.
Overall, basic accuracy is very good, but there are some odd things here and there. Using drawings in Panzertracts No. 16, "Bergepanzerwagen" as a reference I noted the following. The vehicle appears to be slightly too small all 'round (or are the drawings reproduced slightly too large?). The Pz.Kpw. IV-style driver's hatches are slightly misshaped, not being rounded enough at their corners, and the two filler caps on the engine deck have their hinges facing forward, opposite of what the drawings show. Finally, the mounting bolt pattern for the deck differs slightly from the drawings.
Molding is exceptionally well done. The weld beads are well-represented, as are all open grills. Small details are crisp and there are no compromises except for the one-piece stowed jib boom. There are no sink marks, nor are there any ejector pin marks visible anywhere on the finished model, including the hatch interiors. I test-fitted the major components and found absolutely no fit problems. I have built a Ferdinand and most of the Tiger (P), so can also state that the suspension fits quite well (remember to leave the forward sprocket mount E-5 loose so that the tracks can be adjusted for sag), as do such things as fenders and other smaller bits.
The instructions are "busy" and must be followed carefully so that the version differences given are properly modeled. The color schemes and markings are very limited as only three of these things apparently saw service with s.Pz.Jgr.Abt 653; two on the Eastern Front, and one in Italy. Zimmerit was also applied to some of these, so photos should be consulted if you wish to accurately model a specific vehicle. For the best selection of photos, I'd recommend a look in the Fedorowicz book by K. Munch, "Combat History of Schwere Panzerjager Abteilung 653".
If choosing not to use the roof-mounted rotating MG34, there is another possibility open to modelers of German AFVs. The sprue that carries this part comes from the DML StuG. III Ausf. G late version, so if one wished to convert a Tamiya early Ausf. G, nearly everything needed for that is provided. Or, the ever-hungry spare parts bin will get fed again.
So, overall, this kit is not too shabby although it does have some apparent errors. The subject matter is also rather esoteric, which may also limit appeal, except to those who must have every Tiger variation possible.
Recommended.
DML kits are available from retail and mail order shops. For details see their web site at: www.dragonmodelsltd.com.