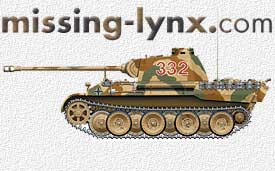 Eduard 35287 Sdkfz 9 Famo
Frank De Sisto
EDUARD 35287, Sdkfz. 9 Famo (Tamiya). Contains: one 1.75 x 3 inch fret, one 2.75 x 4 inch fret, one piece of film, one double-sided A4 size instruction sheet in 14 steps. Price $19.99 USD. Available from retail and mail order shops and from the
manufacturer at: www.eduard.cz. Email: info@eduard.cz.

Call this one "Famo Lite" as it is not overly complex or extensive. It does, however provide enough parts to dress up the already well-done Tamiya kit.

Step 1 adds a radiator screen to kit part E41.
Step 2 provides license plate, vehicle width indicator pole bases and command flag holder and base (although I have my doubts that this type of vehicle would be fitted with the command flag).
Step 3 provides brackets for the two wire cutters.
Step 4 gives foot pedal pads and details for the driver's compartment storage boxes.
Step 5 details the shovel stowage brackets and includes new shovel heads.
Step 6 is the mounting bracket for the kit's optional external fire extinguishers.
Step 7 is the tread plate detail on the side steps between the front fenders and the driver's compartment.
Step 8 provides handles for the engine compartment side panels.
Step 9 provides a new instrument panel with mounting brackets and film dial faces. It needs some fittings from the kit part added.
Step 10 provides what is probably a manufacturer's data plate for the superstructure side.
Step 11 provides very easily worked rifle storage brackets.
Step 12 provides the frame for the movable driver's windshield panel and can be modeled open or closed and includes windshield wipers.
Step 13 provides taillights and mounts, mud flaps and rear fender braces.
Step 14 provides a host of small hand tools for the tool drawers. These include box and open end wrenches, pliers, saws, files, hammers and screwdrivers.

So, overall we have what is probably the perfect set for the beginner and something which will satisfy the modeler who just wants that little added touch. Recommended, skill level: basic.