Eduard Sd.Kfz.251/21 Ausf.D Drilling (35799)
by Frank De Sisto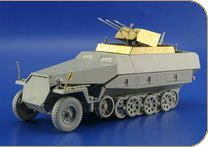 Photo-etched brass in1/35th-scale for DML kit. Price: $24.95 USD.
This has to be one of my favorite variations of the Sd.Kfz.251 Ausf.D-series of halftracks. So I was quite pleased when DML released a kit and also await the announced release of the same vehicle by AFV Club. Eduard has kept pace with the prodigious amount of '251 kit releases over the past 18 months, with this set being one of their latest offerings.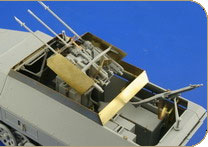 The first things of note are the gun-shields, gun-sight shield and the armored strips and mounts for the vehicle superstructure. The gun mount itself receives new details in the form of retaining straps for the three ammunition boxes, and a new ring sight, while the three spare ammo boxes, as well as the bulk ammo storage locker also get strap and hinge details. The remainder of the interior gets storage brackets and clamps for the MP40 and ammo pouches, gas mask container, fire extinguisher, door latches, MG34/42 snail-drum ammo can holder, spare glass blocks and radio rack. For the cockpit, there is a new instrument panel face which includes printed paper instrument dials, as well as foot pedals, seat springs, floor panels and lift handles.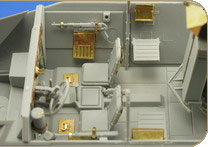 The exterior gets new chains and locks for the storage lockers, clamps and brackets for tool storage, tail-lamp mounts and mud flaps. There are tiny lifting hooks for the front end of the superstructure as well as covers for the engine access door key-holes. Finally, there are two small "T" handles for the rear doors, but only one is needed.This simple up-grade ought to do nicely on the DML kit.
Highly recommended.
Images provided by Eduard whose products are available at retail and mail order shops, or direct from the manufacturer at: www.eduard.cz.