Eduard Flakpanzer IV Mobelwagen 37mm 1/35-scale photo-etched brass (35755)
by Frank De Sisto
Contains: three frets and five pages of instructions. Price: $29.95 USD.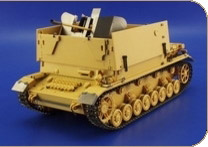 Frankly, I was a bit surprised to see Eduard release a new set for the Tamiya kit, since the previous set from them is rather well done to begin with. But, there are certain refinements compared to the first release, so if I was shopping for an etch set for the Tamiya kit, this is the one I'd choose.
To begin with, all tool clamps, brackets and racks are provided, with the clamps being very-simple-to-assemble one-piece affairs. There are spare track hangers for the lower bow plate, as well as brackets that are fitted to the transmission access plate. Tow shackle details as well as parts to detail or completely re-build the head and tail lamp assemblies are also included. There are completely new front and rear mud flaps as well as details for the hull rear including parts for the exhaust system, access ports and idler wheel adjustment housings.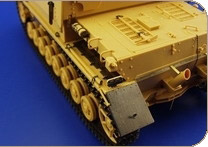 Where this set departs from the above-mentioned original set is in the open gun compartment. The ammo lockers get a new outer "skin", which consists of doors with embossed strengthening ribs, hinges and locks, as well as external equipment racks. There are also a number of small details for the compartment, including brackets and hinges. The armored drop-sides also get details for the inner and outer surfaces to include workable hinges (needing wire for pins and hooks that the modeler must source from elsewhere), spare barrel storage clamps and pistol port details.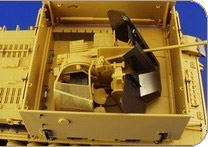 As one would expect, Eduard has provided parts to completely replace the kit's gun shields. They are properly complex and will require careful bending and alignment from the modeler. Likewise, a myriad of rivets need to be added, for which Eduard has provided various sized holes at the edges of the frets. The modeler is instructed to heat pieces of sprue and plug them into the holes in order to get the hex-shape. There are also details for the gun mount itself and screens that are to be affixed to the Tamiya kit's framework for catching spent shell casings.
Altogether, this is a fine, if complex set that should allow the more experienced modeler to give the Tamiya kit quite a bit of fine detail. Not for the faint-hearted!
Recommended.
Eduard products are available at retail and mail order shops and directly from the manufacturer at: www.eduard.cz. Visit their web site for images of reviewed items.