Eduard Panther Ausf. G (steel wheels) (35756)
by Frank De Sisto
Photo-etched brass in 1/35th-scale for Tamiya kit. Price: $24.95 USD.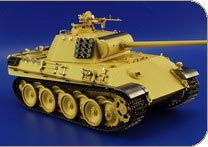 Eduard had previously made sets for the Tamiya Panther Ausf. G series, so I was a bit surprised that after all this time, there was a new set for one of these tanks. In fact, this is a bit of a change for Eduard as we will see.
The first thing that's apparent is that Eduard has provided inserts to detail the interiors of the four rectangular engine deck openings. This is indeed welcome, to be sure. They have also supplied the sliding vent covers for the outer surfaces of all four openings, although these are not strictly appropriate for the particular Tamiya kit in question. These parts are only seen on tanks with the raised fan housing, and there are only two used, on the sides opposite the fan housing. So, unless your model has that feature, leave these guys off.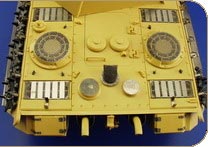 The rest of the set consists of the "usual suspects": screens for the grills, clamps and storage brackets for tools and accessories such as jack and fire extinguisher; hinge and mounting plate detail for the stowage boxes, spare track racks and hooks, and details for the barrel cleaning rod storage tube including end caps, clasps and mounting strips.
There are complete new multi-part front fenders, which need to be embossed from the inside to represent the ribs on them. The turret features hooks for spare tracks, the rain guard over the gun mantlet, two (of the three needed) gas detection panel holders, compass mounting plate and close-in defense weapon port plate. The cupola gets an all-new AA MG34 mount and ammo sack as well as a blade sight and hatch hold-open stop plate.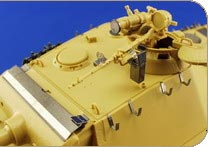 Finally, there are details for the IR sights. Curiously, especially since there is information available, Eduard did not supply the hull rear-mounted storage box for the IR equipment. This would have made this "the set" for the IR Panther Ausf. G, had it been included. However, what is given is indeed well-done.
Highly recommended.
Eduard products are available at retail and mail order shops and directly from the manufacturer at: www.eduard.cz. Visit their web site for images of reviewed items.