Eduard Schurzen Pz.III Ausf.M/N, (1/35th) (35706)
by Frank De Sisto
Contains four frets and four pages of instructions. Price: $29.95 USD.
I have been waiting for years for DML to tackle this set, as the later Pz.Kpw. IIIs are some of my favorite vehicles to model.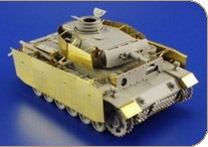 This set is very complete and starts out with all of the hull mounting brackets and rails, plus, of course, the actual overlapping side plates. These are all nicely engineered for ease of use, and are not overly complex, although care in fitting is required so the plates will properly line up on the finished model.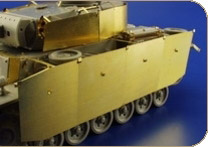 The turret has a unique way for assuring the mounting struts are properly spaced and also strong enough to withstand some handling. The main struts on either side are each comprised of a single piece, consisting of a plate which fits under the turret's bottom surface. The remaining side plates are fixed to these, with the rear plate and door covering plates added last. This looks like it should ease the process considerably, and should be welcome by modelers.
Recommended.
Product images are used by permission of Eduard.
Eduard products are available at retail and mail order shops and directly from the manufacturer at: www.eduard.cz. Visit their web site for images of reviewed items.