Eduard Sd.Kfz.251/22 Ausf.D (35776)
by Frank De Sisto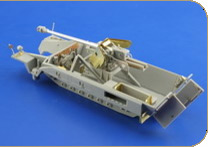 Photo-etched brass in1/35th-scale for DML kit. Price: $24.95 USD.
Like all of Eduard's recent etch sets for the new wave of Sd.Kfz.251 kits, this one starts out with details for the cockpit. These include a new instrument panel with separate detail parts as well as full-color printed paper instrument dial faces. The area is further embellished with new foot pedals, access plates and various fittings and clamps. The remainder of the cockpit receives holders for the spare glass blocks, seat back springs, radio rack, storage clips for the MP40 and its ammo pouches. Other interior parts include details for the bench seats, fire extinguisher brackets, snail-drum ammo holder and door latches.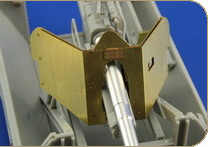 The PaK 40 gets completely new shields, which match those in the DML kit, as well as details for the various fittings that are attached to them. However, the DML shields themselves are questionable dimension-wise, which may make the Eduard shields less-attractive, since they match those provided in the kit. There are details for the gun's cradle as well as new hinges for the ammo lockers. The MG42 receives an AA ring sight and a section of (flat) belted ammo. The remaining parts are for the exterior and include tail-lamp mounts and details, mud flaps, lifting hooks, antenna mount base, chains and locks for the storage lockers as well as chain for the tow pintle. Finally, there are clamps and brackets for the tools.
This set will easily compliment the DML kit, despite the shields issue. The remaining parts will also improve the kit wherever they are used.
Recommended.
Images provided by Eduard whose products are available at retail and mail order shops, or direct from the manufacturer at: www.eduard.cz.