Eduard Sd.Kfz.251/6 Ausf.C (35742)
by Frank De Sisto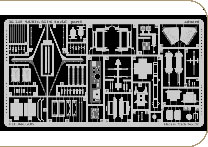 Photo-etched brass in 1/35th-scale for DML kit. Contains: two frets, one piece of paper, one piece of film and five pages of instructions. Price: $24.95 USD.
Opened-top vehicles such as half-tracks usually contain "busy" interiors. This is especially true of vehicles such as the Sd.Kfz. 251/6, with its radios and ancillary equipment. Eduard has provided a load of fine details for this vehicle, including: all-new radio sets and their mounts; details for the kit's radios, mounts, and tool chests; a crank handle for the telescoping antenna, details such as head pads, seat backs, foot pedals and new instrument panel (with optional paper or film dial faces) for the driver's compartment, and new internal bits (including film "glass") for the vision blocks. The remainder of the interior receives new rifle and machine-pistol racks, various smaller boxes and bins, details for existing boxes and bins, hull front-to-rear-segment attachment flange, fire extinguisher racks and snail-drum ammo racks.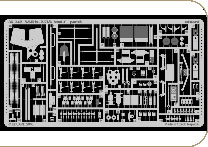 The exterior receives new brackets and mounts for the Notek system as well as the conventional head-and tail-lamps, chains and hinges for the external storage lockers, mud flaps, tool storage clamps and brackets, antenna mounts, turn signal indicators, jerry can racks, chains, boarding step, side-view mirror and various tie-down brackets. The MG shield is replaced with an etch item that includes the mount, an AA ring-sight and belted ammo.
Altogether, then, this set will bring the base kit up to a level of detail worthy of the potential of an open-topped model.
Highly recommended.
Product images are used by permission of Eduard. Eduard products are available at retail and mail order shops and directly from the manufacturer at: www.eduard.cz. Visit their web site for additional images of reviewed items.