Eduard Sd.Kfz.9 Famo (22086)
by Frank De Sisto
Photo-etched brass in 1/72nd-scale for the Revell kit. Price: $14.95 USD.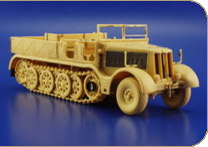 With the current resurgence of interest in small scale modeling hitting its stride, Revell is commonly considered to be producing some of the industry's finest kits. Their schwerer Zugkraftwagen 18-ton Sd.Kfz.9 "Famo" is a case in point, as it resembles a smaller version of the Tamiya offering, so is really quite a wonderful little model. It only needs some smaller details added for that last touch of finesse.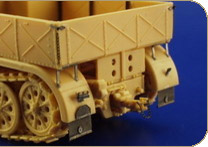 From front to back, there are new slats and radiator faces for the engine compartment, as well as license plates and mounts for the various head-lamps and width indicator poles. There are new side walls for the engine compartment, which include separate handles. There are thin film inserts to replace the clear plastic of the kit's windshield, as well as the frame for the part on the driver's side that opens up for ventilation. This includes windshield wipers, wing-nuts and the arms that support the section when it is open. This will give the finished model a bit of character. There are also film inserts for the driver's instrument faces, which are placed behind a new panel. That area is also finished off with foot-pedal and floor panel details.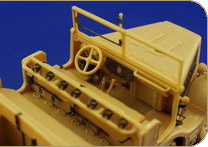 The remainder of the crew compartment has clips for the rifle racks and various tools with attached clamps. However, of course, the tool's handles will be flat; the detail purist will certainly wish to re-work these. The load-bed has details for some body frame-work, and the frames that hold the supports for the canvas roof when they are in the stowed position. There are also some fine chains for the rear door as well as the tow hook. Small steps, supports for the fenders, various license plate and light mounts, as well as fire extinguisher mounts and other small items can be used to dress up the remainder of the body's exterior. The final items are parts to detail the hub of the drive sprocket.
This is a comprehensive set that should satisfy most detail fanatics. Although not a new trend, it is still nice to see that aftermarket manufacturers are paying attention to the new releases in the smaller scales. Braille-scalers can now boast the same aftermarket resources that the rest of the modeling community has become used to. And, that's not a bad thing!
Highly recommended.
Eduard products are available at retail and mail order shops and directly from the manufacturer at: www.eduard.cz. Visit their web site for additional images of reviewed items.