Eduard Zimmerit Stug. III Ausf. G waffle (35752)
by Frank De Sisto
Contains: two frets and three pages of instructions. Price: $14.95 USD.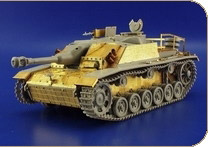 Lots of modelers fear applying Zimmerit to their panzers and are always on the look-out for an easier method than putty and razor saws. The so-called "waffle" pattern is especially daunting since it is rather complex and normally only seen on the StuG. III, with it's multitude of small shapes and angles.
Eduard has come to the rescue with a well thought out set, which consists in the main of flat panels that are affixed to flat surfaces. Each panel is fitted for a particular spot on the kit and has cut-outs for such things as hatch edges and hinges, as well as various ports and fittings. Optional panels are also provided for the bolted bow appliqué armor, as well as the welded armor. Also provided are the supports as seen beneath the front and rear fender segments.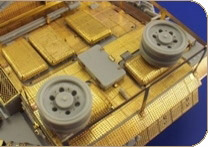 The only complex parts are those that must be bent around some of the engine deck intake cowls, otherwise the entire set should prove useful to all but the least experienced or novice modeler.
Recommended.
Eduard products are available at retail and mail order shops and directly from the manufacturer at: www.eduard.cz. Visit their web site for images of reviewed items.