EuroModelismo Monograph 12 "Stug III"
by Joaquín García Gázquez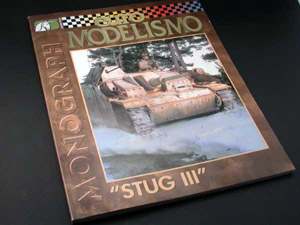 Presented in a regular size format and with over 100 pages filled with mostly color photographs, it's nice a treasure trove of info and beautiful models.
First off, legendary master modeler, Tony Greenland gives a nice forward to this volume, so you know that it's definitely on the right path!
What is really neat about this volume is that it encompasses a wide spectrum of the vehicle history, from creation and development of the StuG to 8 pages of vehicle camouflage, complete with no more than 15 vehicle color plates and extensive RAL color chart.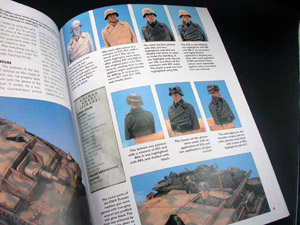 Not only is the history of this variant well presented with wartime photos but also included is the vehicle tactical emblems, and a very interesting chapter on uniforms worn by the StuG crew complete with a nice photo essay to make figure painting details really stand out.
The modeling chapters are filled with step by step photos as well as color plates describing, painting and weathering and more importantly exactly how to achieve great results … especially the chapter on figure painting.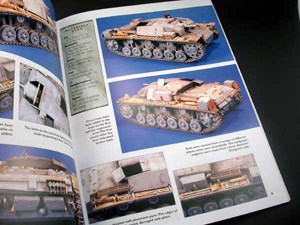 7 models (5 Dragon, 2 Tamiya 1 Gunze) of the StuG, from the "A" model to the late G Frühe model are presented.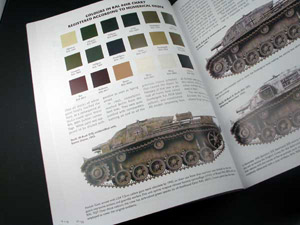 Each of the 7 chapters are complete with crisp, clear progress photos, utilizing aftermarket and scratch built details to showcase some really nice work.
Also every chapter has a helpful paint chart which notes exactly which paints have been used along with the accompanying camo chart which goes into extreme detail on how to achieve the proper painting/weathering/finishing, all step by step!
Conclusion:
Anyone remotely interested in building any model variant of the StuG III, will be very wise to pick up Joaquín García Gázquez's latest release of EuroModelismo Monograph #12.
Highly recommended
Nick Cortese
Thanks to Editor Joaquín García Gázquez for supplying the review copy.
Visit Joaquín's personal site : www.enjoy-models.com
Or www.euromodelismo.com for more info!