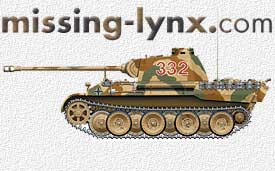 Funklenkpanzer
Andrew Dextras
Powerhouse publishing firm JJ Fedorowicz have done it again. This 610 page behemoth contains over 800 photos in a large 9" x 12" format and covers everything you ever wanted to know about the "Funks" but were afraid to ask.
Coverage begins with a technical analysis of the various radio controlled demolition vehicles. Author Marcus Jaugitz guides the reader through the various Borgward, NSU and Goliath models employed by the Germans. Also interesting is the information on the Schwimmwagen 129 modified for demolition service, although it wasn't selected for use in service, this is interesting nonetheless.
The next portion of the book covers the early units which used the sdkfz 265 (Panzer I kleine Befelspanzer) as control vehicles. A large number of images are included in this section and they are of excellent quality and mostly unpublished.
The book then moves on to cover Pz. Abt 300 and 301with their panzer III control tanks. Photo coverage is spectacular consisting of large clear images that are usually only 2 per page (considering that this is a large format book, this makes images that are larger than some full page photos in smaller format publications).
Being a StuG fan, the next 300 pages or so are the highlight of the book as literally hundreds of images of StuG Ausf G are featured in various situations. Also included are some images of a 3 ton Maultier using a Borgward truck and sdkfz 11 running gear. Only 2 of these were produced, nice to have them caught on film. Also of interest are image of Ferdinands which served or trained alongside these units. There are some nice diorama ideas for when the Dragon kit is released. Also included are some particularly nasty images of the fighting during the Warsaw uprising,
Tiger unit coverage is excellent with some great action shots as well as detail photos clearly showing the antennae arrangement.
Throughout the book there are numerous organisational organigrams which are very nicely done. The book concludes with 30 pages of nice colour plates from Jean Restayn, handy stuff for the modeller.
It's particularly difficult to give a really comprehensive summary of the material covered in a book of this size, but I can only say that in this case, good things come in big packages. This book is easily as good as JJF's 653 book, in fact based on the quality of the images and the unique subject matter, I would rate this as JJF's best book yet. The sheer amount of unpublished StuG and Tiger images alone make this book essential reference material, let alone the historical value of the excellent text and Borgward coverage.
Very highly recommended.
Click on images below to enlarge. NOTE: These sample image were scanned at 76dpi, actual book images are much clearer.