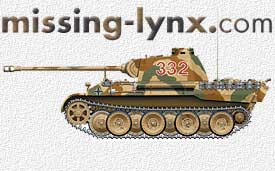 German Soldiers of WWII
Tony Leung
Title: German Soldiers of World War Two
Publisher: Histoire & Collections, Paris, France
Printed February 1995
ISBN 2908182297
Author: Jean De Lagarde
Hardcover, 127 pages , full colour printed on smooth glossy paper stock.
Price: CAD41.95 plus GST, also available from RZM Imports for USD29.95 plus S&H

Most readers will be familiar with the Windrow and Green series of books on uniforms whereby re-enactors are dressed in authentic replicas of Second World War uniforms and equipment and photographed against an outdoor backdrop. This book by this French publisher follows a similar format with the exception that there is no outdoor backdrop for the uniform actors
to pose against.
The uniforms are presented in a chronological manner from 1939 until the end of the war for Germany. Each subject has two full pages devoted to it, with each actor dressed in two diffferent variations of the uniform he is modelling. For example, one page will show an officer in a relaxed sort of pose wearing his officer's peaked cap while the next page will show the officer wearing a camouflaged steel helmet with camo jacket , webbing gear and carrying a weapon. Usually, the front of the actor is shown, but in some cases, the back of the actor is photographed in order to illustrate the arrangement of the webbing and pouches. The corners of each page will have close up photographs of the various equipment such as badges, knives , mess tins, shovels, weapons and headgear. The coverage of German uniforms is obviously by no means exhaustive given the limited number of pages in the book, but the selection of uniforms and services within the German armed forces makes this book good value for the money.
In comparison, Osprey's Men At Arms series has a five volume set on German army uniforms, with each softcover booklet priced at about CAD15.00 in my corner of the globe. This series alone only covers ARMY uniforms and not the other branches of the armed forces. The use of colour pictures in the Histoire & Collections book gives the modeller a better idea of uniform colours than could possibly be done by B/W photographs and colour paintings found in the Men At Arms series. The Osprey books do have their value due to the immensity of detail they provide, but if a modeller wishes to invest only on one book about German WW2 uniforms, then this is the title I would recommend.

For those who really need to know which 51 uniforms are covered in this book, here is a copy of the table of contents:
1939-40 The Blitzkrieg Years
- 3rd Panzer Regiment Officer Cadet
-Infantry Sergeant, France

1941-From Crete to Moscow
-Paratrooper,Crete
-Artillery Captain, Eastern Front
-U-Boat seaman

1942- The Last Victories
-U Boat Lieutenant
-Afrika Korps Infantryman
-Mountain Rifleman, Caucasus
-Sentry in Winter Clothing
-Food carrier

1943-The Turning Point
-Fledgendarme on duty
-Hauptwachmeister, Marseilles
-Deutschland Squad Leader
-Polizei Division , Eastern Front
-Hermann Goering Panzergrenadier
-Fighter Pilot, Sicily
-KG "Hindenberg" Bomber pilot
-Reichsfuhrer SS Grenadier
-Engineer, Eastern Front
-Paratrooper, The Ukraine
-Luftwaffe Assault Gun Crewman
-Heer Infantryman

1944 Setbacks on all Fronts
-Paratrooper, Cassino
-Heer Infantryman
-16th Pzr Regiment, NCO
-Tank Buster, Normandy
-Artillery officer, Falaise pocket
-Grossdeutschland Engineer
-Panzer Corporal, Normandy
-Infantry Squad Leader
-21st Pzr Div Artilleryman, Normandy
-Kriegsmarine Artilleryman
-Officer, Fuhrer's HQ
-17th Luftwaffe Field Div. Artilleryman
-Recce Troop Officer, Italy
-"Langemark" officer cadet
-'Von Salza' Battlaion NCO
-Brandenburg Division Officer
-7th SS Div Mountain Rifleman
-Assault Gun officer
-Radio Operator, Italy
-Infantry Officer
-Mountain Engineer Officer
-Recce Troop NCO
-Grenadier, Kurland
-Defence of the Reich fighter pilot

1945- The last stronghold
-Heer sniper
-SS Totenkopf Division MG gunner
-Belgian Volunteer , Pomerania
-SS Nederland Division Artilleryman, Pomerania
-SS Nordland Division, Infantryman, Pomerania