AJ Press Gun Power 22: Ferdinand/Elefant Vol. 1
by Tadeusz Melleman, with CAD renderings and color plates by Slawomir Zajaczkowski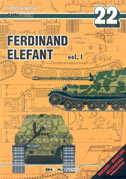 AIRCONNECTION/ AJ PRESS, ISBN 83-7237-157-1. Price: $22.99 USD, $28.99 CAN.
It's been a long time since AJ Press has published a new armor-related book, so I am quite pleased to have the opportunity to review this latest offering. This is the first of two volumes in the "Gun Power" series (usually called "Tank Power", but I digress) devoted to the Ferdinand/Elefant tank destroyer, as well as related Porche prototypes and variations such as the Befhelspanzer Tiger (P) command tank and the Bergepanzer Tiger (P) recovery tank.
The 52 B&W photos sprinkled throughout the text are, in many cases, extremely well-reproduced. These excellent production values mitigate against their familiarity. In short, you may have seen these photos elsewhere, but not in such clarity. These cover the familiar Porche VK3001(P) and VK4501(P) prototypes, Panzerjaeger Tiger (P) Ferdinand in the factory and in combat use in the East, and, finally, the Bergepanzer Tiger (P) in its initial form.
The reason these books are popular resides in the 1/35-scale CAD scale drawings. This book contains a total of 39 pages of them. These include complete sets of drawings for the VK4501(P) with ballast turret, VK4501(P) with early turret, Befhelspanzer Tiger (P) with production turret (still missing the retro-fitted escape hatch on the turret rear), and several variations of the Elefant. These last include a variety of fittings and storage lay-outs. Finally there are sets of drawings for the Bergepanzer Tiger (P) showing both early and late versions.
17 pages of 1/35-scale full-color CAD renderings depict a total of 14 different Ferdinands' and a single Elefant with the modifications that were applied during the vehicle's refitting. The color schemes on these particular vehicles depict quite a variety and appear to be accurately-based upon contemporary photographs. In addition, they are also beautifully presented and quite pleasing to the eye.
The modeler's section contains 33 color photographs depicting a model of a Ferdinand, based on the excellent DML offering, with Aber and Fruilmodel after-market accessories such as etched brass, turned-metal gun tube and metal individual-link tracks. The model is presented in an un-painted stage. Other photos in this section show various Aber products for the kit. The text in this section also lists various available 1/35th-scale kits and accessories and is presented by Polish modeler, Wojciech Molsky.
In general, the text (this is a dual-language Polish/English book) and captions are informative, if a bit tough to read in some places. This publisher formerly used the services of persons who spoke English as a first language, to proof-read the translations. This no longer seems to be the case and the book suffers accordingly. However, the careful reader will be able to find his way, if a bit slower than one would expect. I picked up what I believe to be an error in one of the captions for the scale drawings on page 39. The writer expresses concern that a stowage container placed over the large circular "entry hatch cover" on the casemate's rear face would "block" it, making "bailing out-difficult". He need not worry! The large round hatch was provided to remove the main gun; it was not something commonly used for egress or entry, since it was never designed for that purpose. It had to be removed (using a crane), which is why some later Elefants had a field modification, which added rather large external hinges to a door that had been cut in two.
Altogether, however, this is a reasonably-priced book which ought to prove quite useful to those who own either one, or all, of the DML (or Italeri) Tiger (P)-based kits.
Recommended.
Frank De Sisto
Available in North America from AirConnection at: www.airconnection.on.ca, e-mail: sale@airconnection.on.ca.