Lion Roar Brummbar Sturmpanzer IV for DML kit (LE35045)
by Frank De Sisto
1/35-scale photo-etched brass, copper and brass wire, and styrene rod. Price: $20.95 USD.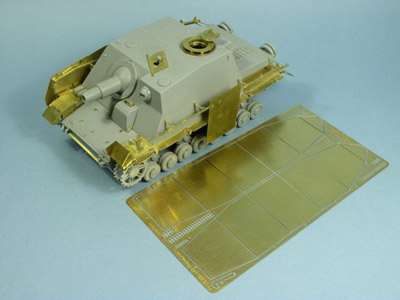 Of the three new sets from this manufacturer recently sent to me for review, this one is my favorite of the lot. Packed inside a stout, attractive little box are three clear envelopes containing a total of seven frets of etched brass, copper wire, styrene and grass rod, and four pages of clearly-drawn instructions. So, unlike some other manufacturer's products, everything is included; you don't have to buy separate fender replacement sets or separate schurzen sets. Everything is here, and for only $21.00 US!
The casemate receives a completely new cupola whose hatch, as well as the small scissors periscope flap, can be made to work with the provided brass rod hinge pins. There is also a new sliding cover and rails, as well as plate details for the gun sight, plus antenna mounts, rain gutters and mounting flanges (for the rear casemate access doors and their enclosure). Various tools get new clamps and mounts as does the vehicle jack. The jack block is completely re-detailed, while the external storage box on the fender gets new hinge and clasp details.
The kit's fenders are completely replaced with new multi-part affairs, which include working hinged mud flaps. These are especially nice since they are double etched and include bolt detail, making them easy to use. In addition, the small springs for them are provided for by using the fine copper wire included. The fender extensions peculiar to this vehicle are also provided for, in a slightly thicker brass.
The schurzen plates are very well-done, but are complex. The brackets and mounting rails are quite intricate. I strongly recommend a dedicated bending tool for use in their construction (as well as for the fenders) so that things are less likely to go awry. The schurzen plates themselves are produced in thicker brass, so I would also suggest that solder be used to construct the frames and rails, for various reasons having to do with strength and weight. The set provides etched rivets to be applied to the outer surfaces of the plates, but I recommend using styrene rod, sliced "salami-style" or styrene sheet and a punch and die set.
Those who have the DML kit, (the one I have is the re-worked Shanghai Dragon version with newer hull pan and suspension-from some years ago) will certainly appreciate what this set has to offer.
Highly recommended.
Lion Roar products are available in North America from Dragon USA at: www.dragonusaonline.com. Elsewhere see: www.lionroar.net for details.