Lion Roar Porsche Tiger VK4501(P) for DML kit (LE35044)
by Frank De Sisto
1/35-scale photo-etched brass, copper and brass wire, and styrene rod. Price: $14.95 USD.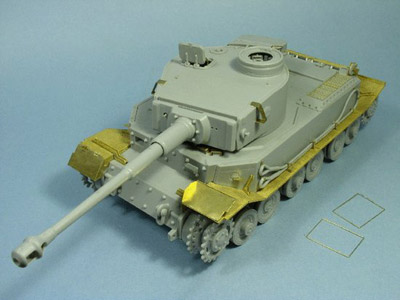 One of the vexing things about the recent DML Tiger (P) is that the manufacturer included the screens for only two of the four engine deck grills. One after-market manufacturer came out with a set for this kit and included the same screens that DML did, but NOT the ones they didn't! It's enough to drive a man to drink…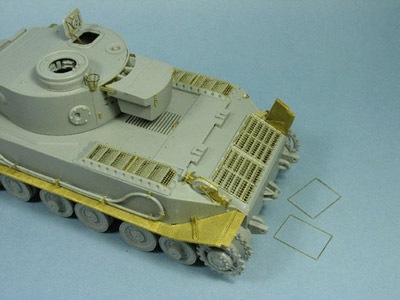 To the rescue comes this recent set from Lion Roar. It comes packed in a small flat box, with the five frets securely taped to separate cards, inside clear envelopes. There are two lengths of very fine brass rod, as well as some nifty pre-assembled frames for the rear-most engine deck grills. The instructions are clearly-drawn and consist of two-and-a-half pages.
The set starts off with very nicely done complete replacement fenders, including separate mud flaps with workable hinges. The fender braces are nicely designed and in some places are only one piece, so are easy to use. To them are attached the curved "track-slap" deflectors (underneath) and rear station-keeping light and mount. The hull gets new mounts for the Bosch head-lamps as well as new mounts and clamps for the tools and tow cables. As previously stated, all four of the engine deck grill screens are included, with the large rear-most ones created using etched screens and pre-assembled wire frames. Parts are provided to completely re-build the vehicle jack, but the modeler will have to carefully cut apart the styrene version provided in the DML kit.
The turret receives external and internal detail for the two hatches, including a part to represent the drain holes around the commander's cupola, as well as new parts to create the small smoke candle basket that was attached to it. Finally, clasps and mounts are provided for the turret bustle storage bin.
Altogether, this is a very well-engineered set and ought to prove to be easy for the modeler to use. It is very complete, and for the asking price is an outstanding bargain.
Highly recommended.
Lion Roar products are available in North America from Dragon USA at: www.dragonusaonline.com. Elsewhere see: www.lionroar.net for details.