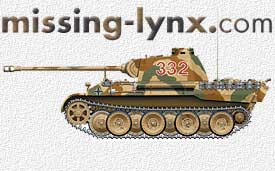 Nuts and Bolts #14 - Nashorn
Andrew Dextras/John Prigent
Andrew's Comments:
The latest release in this excellent series aimed at modellers deals with the famous 88mm armed tank destroyer based on a lengthened Panzer IV chassis. The size of these books seems to keep growing with every new release and this one is no exception at 110 pages.
The book begins with details of Nashorn allocation to different units. This sort of information is handy to the modeller as the number of questions regarding vehicle allocation pop up with regularity on the ML discussion groups.
The next 20 pages is a collection of excellent period photos. In my opinion, this is the best part of the book. Lots of rare pictures, many of which were contributed by noted ML contributor Mirko Bayerl, give the modeller lots of diorama and markings possibilities. Great stuff.
The book then continues with 7 pages of 1/35 scale drawings and very nice colour plates.
The bulk of the book is 50 pages of detail images of the Aberdeen and Kubinka Nashorns as well as the towed 88mm PaK 43/41 at Aberdeen. These images are essential for anyone intending to tackle the Dragon Nashorn as the vehicle fighting compartment is very busy.
Finally, as a bonus for modellers, the book contains 4 pages of detail images of Brian Wellís spectacular, mostly scratchbuilt 1/35 Nashorn model. This model was featured in a Military Modelling special 2 years ago and you could do much worse than patterning your Nashorn model after this multimedia masterpiece.
In summary, another excellent addition to the N&B series. The only thing we could ask for would be a Tamiya Nashorn to go along with this publication!
Highly recommended.
John's Comments:
The Nuts & Bolts team has surpassed itself Ė this is the biggest and best Nuts & Bolts book yet! Its 110 pages include masses of information, photographs, colour plates and plans for modellers to delight over.
What, exactly? Pages 2 to 27 are bilingual English/German text starting with the evolution of the Panzerjager concept and going on through the development and production of the Nashorn, unit organisation, an extract from Notes for Panzer Troops which summarises the weak and strong points of the vehicle and how it should be used, Battalion organisation tables for May to August 1943 and for August 1943 to May 11945 (I wonder what happened in between?), a table of recorded deliveries, a report of units with Nashorns as 31/12/44, service history with each unit, camouflage an markings, and a note on available models and upgrades to them. Plus full technical data, notes on the ammuniton used, a bibliography and a table of German abbreviations with English translations.
Then comes the first section of photographs, 56 wartime ones spread over 19 pages good, big, clear reproductions here with many of them showing unit markings. The captions give as much information as possible, including unit identifications, and point out interesting features such as the added armour on some vehicles. Next are four pages of 1/35 plans of the standard production version, including cutaways showing the fighting compartment from both sides and and extra front and rear plans showing the distinctive features of the early version, its Hummel-type gun crutch and transverse silencer at the rear. The text earlier explains that many Nashorns mixed the early and standard features and tells you what to look out for when checking photographs, such as the two sprocket types used and the fixing of the rear mudflaps to boxes on early Nashorns.
After this comes the preserved vehicles section . 117 photographs on 39 pages of the Nashorns at Aberdeen Proving Ground and Kubinka cover the exterior, interior and gun in considerable detail. The informative captions tell you exactly what youíre looking at and everything is clearly shown. Excellent! The next four pages show Brian Wellsí superb model, used to show what an intact Nashorn looked like Ė unfortunately the APG one has some fitting missing and the Kubinka one others, so neither is able to show everything as Brianís model does.
And that isnít all! For good measure the team has included 10 pages on the towed PaK 41/43, with 31 photographs of guns at APG, Bovington, St Petersberg, Clervaux, and Heiderscheid. This is the same gun as fitted to the Nashorn, and a lot of details are usefully shown here. Thereís also a four-view 1/35 plan of it, so this section is ideal for builders of the Precision Models kit of the towed gun as well as for Nashorn fans!
Did you think Iíd forgotten to mention any colour plates? No, I just left them to last to tantalise you. The two inside covers each have plates of two Nashorns with enlarged depictions of their unit badges, and there are plates of 6 more in the centre of the book. One doesnít actually show any markings, itís a cutaway showing the radio arrangement in a command Nashorn. Quite useful, but the same radio arrangement is shown in the plans section so Iíd rather have had another unitís markings shown instead.
Thatís the only criticism I can make of this book, which proves its quality. Very highly recommended, get a copy and be ready if the rumoured Tamiya kit proves real or correct the Shanghai Dragon kit Ė all the information is here to do it.