Nuts & Bolts 19: 15 cm sIG33 (Sf) auf PzKpfw. I Ausf. B & 15 cm sIG33 (towed)
by Jurgen Wilhelm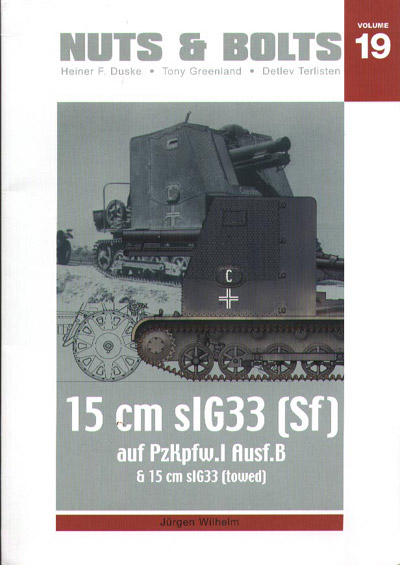 Published by Nuts & Bolts GbR, no ISBN, 160 pages.
The latest from Nuts & Bolts is a new departure since there are no surviving examples of the vehicle to be photographed. What we have instead is a magnificent collection of wartime photos, 192 of them spread over 69 pages showing markings and repaying close examination with loads of external details. The 15 cm sIG33 itself does of course survive and we get 84 colour closeups of a well-preserved example on a further 27 pages. There are also photos of the ammunition, including the notorious "finned bomb" fired from the gun muzzle like a rifle grenade, and even closesups of the gunsight.
All this, and there's more! The dual English/German text gives a great deal of information about the vehicle and the gun, including a very useful index to the photos in the book that lets one seek photos from a particular unit, and there are notes on each user unit. The multi-view plans are, as always, excellent and include side views of the vehicle with the side armour removed to show the gun and of the inside of the side armour. Those of the gun are just as detailed, and both sets have isometric drawings as well. There are colour plates of six vehicles, all taken from the photographs in the book and with all markings shown in appropriate views.
This is a great reference for anyone with the old Bison kit still to build, or the sIG33 alone, and if you hope that a Bison will appear from DML you'll need to have this book handy for when it arrives.
Very highly recommended!
John Prigent