Eduard PaK40 75mm (35783)
by Frank De Sisto
Photo-etched brass in 1/35 scale for the DML kit. Price: $19.95 USD.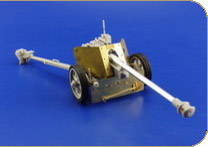 For only a few dollars more, this set for the recent DML PaK40 offers quite a bit more than what's included in the set for the AFV Club kit. These new items include the main spaced-armor gun-shields as well as the lower folding portion (with detail parts) as seen attached to the carriage. There are also a few more parts for the gun's trails, and for where the carriage meets the shields.
The remaining parts are virtually the same as for set 35782: tool clamps and brackets, tail-lamp bracket, details for the trails, clasps for the various storage canisters on the gun, details for the muzzle brake and some frame-work for the gun shields. Some small parts are also provided for the breech and gun cradle, while there are nice clamps and brackets for the ranging stakes. It also contains the same parts for the aiming stakes, which are meant to replace details that are quite adequate to begin with.
Recommended.
Eduard products are available at retail and mail order shops and directly from the manufacturer at: www.eduard.cz. Visit their web site for additional images of reviewed items.