Panzer Tracts No.5-3, Panzerkampfwagen "Panther" Ausfuehrung G
by Thomas L. Jentz and Hilary Louis Doyle
Published by Panzer Tracts, ISBN 0-9744862-7-2, 68 pages, US$24.95.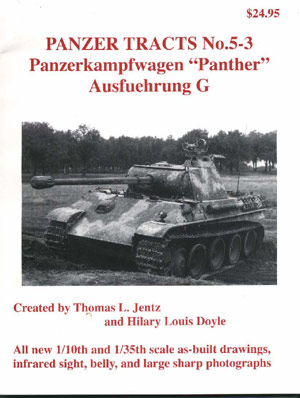 This eagerly awaited part of Panzer Tracts' Panther coverage deals with the Ausf G and is well worth the wait. As always, everything is either taken from the original German records or based on the team's analysis of photographs and examination of surviving Panthers.
The text is hence highly authoritative, and is accompanied by good photographs reproduced clearly at a good size. The plans are amazing – 1/35 multi-view plans of four Panther Gs of differing production dates right up to April 1945, plus extra side views showing the hull with and without the suspension swing arms. For good measure there are 1/10 plans of many individual features, allowing superdetailers to have a field day. OK, there's only a "dotted line" plan of the infra-red stowage box on the hull rear and nothing showing the internal changes for infra-red gear, and in this book no plans of the individual armour plates as in the previous two volumes. If the information isn't available Panzer Tracts doesn't try to guess, an approach I heartily applaud – we can all make our own estimates while hoping that the team may one day find the "missing bits". What is here is a cornucopia of facts, many not often recognised: three different shapes of cutout for the driver's periscopes and the use of a skid instead of a return roller, for instance.
This book gives everything that a modeller could wish for on the Panther Ausf G. Very, very highly recommended.
John Prigent
Panzer Tracts are available from most good military bookshops or direct from Panzer Tracts, P.O. Box 334, Boyds, MD 2041, USA, panzertracts@aol.com.