Panzerwrecks 1
by Lee Archer and William Auerbach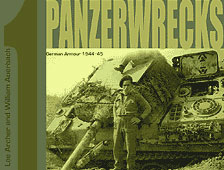 Panzerwrecks, 2005. www.panzerwrecks.com ISBN: 0-9754183-0-0, 96 pages, over 100 B&W photos, Price $29.95 USD
One of my favourite books in my reference library is a twenty year old, slightly battered paperback from the Arms and Armour Press Tanks Illustrated series. William Auerbach's Last of the Panzers, with its superb collection of photos showing destroyed, abandoned or captured German armour from the final year of World War II, showed me just how complex and interesting a subject these vehicles were. I'd be hard-pressed to find a more inspirational title on my shelf.
Sadly, the Tanks Illustrated series went out of print by around 1990 and have become very hard to find since. While many of the titles have been essentially revisited and updated as part of Concord's Armor at War series (Steve Zaloga's titles on US half-tracks and tank destroyers in particular come to mind here), Last of the Panzers never received that treatment.
I waited over the last 20 years for a sequel to Last of the Panzers, but it's finally arrived. It's been worth the wait. Unlike the old Arms and Armour Press book, which had some rather small photos in its 7 _ x 9 _ format, Panzerwrecks 1 is in full 8 _ x 11 landscape format, very similar in appearance to Allied-Axis journal. There are a few photos in this book which have been previously published, but the vast majority of them are new to this reader. Even those we've seen before are reproduced in a large, clear format, so many details (such as casting numbers on components) not previously evident can be discerned. While some of the photos are of relatively poor quality, the rarity of their subjects more than makes up for it.
A full list of the vehicles featured in this book can be found on the Panzerwrecks website, so I won't repeat it here. Instead, I'll point out a few of rarities that were personal highlights. I love the final Panthers with the steel roadwheel on the final station, so I was thrilled to see two examples in this book (I was also surprised to find out that only 28 of these vehicles were built). There is also a fascinating captured Firefly featured in several photos, complete with extended end connectors on the tracks, spare track links welded to the hull front, side, and turret, and a German muzzle brake on the 17 pdr. gun. The short-barreled Sturmgeschütz III Ausf. E in overall dark yellow with large numbers on the superstructure side and the pair of Schienenpanzerspähwagen (the strange armoured powered trolley with a Pz.Kpfw. III Ausf. N turret on top kitted by Dragon a number of years ago) also stand out.
Of note is the extended coverage given to a few subjects in the book. There are eleven pages of photos of the Panthers of I./Pz.Rgt.26 in Italy that fought against the 20th New Zealand Armoured Regiment in April 1945, which are noteworthy for being fitted with extra armour on the turret roof and engine deck, five pages covering Jagdtiger 323 of 3.Kp/s.Pz.Jg.Abt.653 which provide excellent coverage of the camouflage, markings, and damage on this vehicle, and eight pages of photos of Panzer IV/70As on both the Eastern and Western fronts.
The captions are, as with Last of the Panzers, clear and informative, offering as much information as possible about the vehicle, and also very perceptive, drawing attention to details that might get overlooked. The Vorsatz P fitting (MP44 in a rooftop mount with 90° curved barrel) on a destroyed Panzer IV/70 (A), for instance, could have been easily overlooked. Likewise, I would not have identified the halftrack on p. 69 as an Italian-built version of the Sd.Kfz. 7 prime mover, but could see the differences once pointed out.
The book also provides graphic evidence of what happens to vehicles when they are hit by enemy fire, and so should prove extremely useful for diorama builders. The thoroughly perforated RSO on p. 72 and the Pz.Kpfw. IV Ausf. J on p. 17 that has been hit by small arms fire and AP shot both show interesting effects that would be a challenge to replicate in scale.
Rare photos of fascinating vehicles in a high-quality package backed by excellent writing – what more could one ask? Highly recommended - if you are a German armour modeller, this book is a must-have. I can hardly wait to see what gems are going to be in Panzerwrecks 2!
Scott Taylor