Photosniper 9: Flak auf Sd.Kfz.7, part 1
by George Parada, Mariusz Suliga and Miroslav Zelechowski
Kagero, ISBN 83-914824-3-X, 50 pages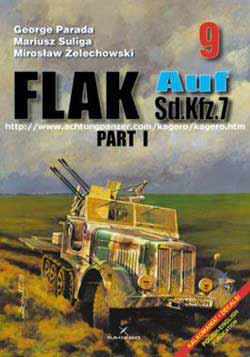 The Photosniper books have been improving steadily since the first one was published, and I was very impressed with this one. It is the first of three parts on the SdKfz 7, and deals exclusively with the versions that carried Flak guns. The text is bilingual, English as well as Polish, and so of course are the photo captions.
It begins with a brief introduction explaining the layout into three books, with the later ones to include 1/35 plans and modelling details. Then follows a 12-page introduction to the development of German halftracks in general and the SdKfz 7 in particular, which describes all the '7's variants and includes a number of wartime in-service photographs.
Then comes the meat of the book, 29 pages of close-up photographs of preserved examples of the 7/1 and 7/2 with nearly all of them in colour. The coverage is of both the armoured and unarmoured cab versions, including those all-important cab interiors. Some of the restoration work on the vehicles may be a little suspect, for instance the /1 armoured cab version with its Flakvierling 2 cm 4-barrelled gun has the boarded cargo sides to its body, but this is a minor point – the intention is to present details of the chassis, engine, cabs, gun mounts and guns and it is carried out very comprehensively. There is less coverage of the Flakvierling than of the 3.7 cm gun, but it is by no means neglected.
Suspension details, instrument panels, gunsights in closeup – there's plenty here for anyone working with the Tamiya kits, and to add to the usefulness of the book there's the bonus of a 5 by 3.5 inch sheet of German number plates in both 1/35 and 1/76 scales. This gives Heer, Luftwaffe and SS registration symbols and 20 sets of numbers 1 to 10 to make your own choice of registration in 1/35, and 6 Heer, 4 Luftwaffe and 7 SS complete number plate sets in 1/76.
Definitely a useful book for modellers of the SdKfz 7 – there's useful stuff here on the cab and chassis even if you're building the artillery tractor rather than the Flak types. Recommended!
John Prigent