Panzer Division in Russia
by Robert Michulec and John Healey, with illustrations by Arkadiusz Wrobel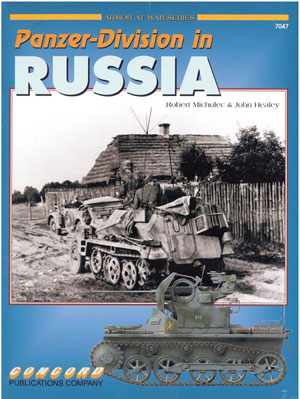 Concord Publications, ISBN: 962-361-076-9. Price: unavailable.
This book is again something of a mixed blessing. It consists of a single page of introductory text which attempts to cover too much ground in too little a space. Therefore some basic info is presented, but in a less than well-balanced manner. The photo captions are of the same style, not imparting much real information to the reader. There are a small number of typos (or misrepresentations of "The King's English") spread throughout the text and captions, which further degrade the effort of the authors.
The 175 B&W photos include a variety of early and mid-war AFV types and also include a large proportion of wheeled soft-skinned vehicles. More than a few will prove to be useful as inspiration for a model. Reproduction quality varies no doubt due to the condition of the originals. Also noteworthy is that several photos were retouched by wartime censors, which makes for an odd appearance here and there.
The nice color plates from Mr. Wrobel depict a decent variety of vehicles such as: Sd.Kfz. 7, Sd.Kfz. 7/1, Sd.Kfz. 250/1, Sd.Kfz. 251/1C, two Pz.Kpw. II Ausf. Cs, Pz.Kpw. IV Ausf. H, two Panther Ausf. As, StuG. III Ausf. G, Flakpanzer I Ausf. A, Panzerjager Ferdinand, Marder II, Marder III Ausf. H, Krupp Protze with 2cm Flak 30 and a rare captured Ford/Marmon-Harrington armored car. Some schemes are unusual while several are confirmed by photos in the book. The captions are not always very helpful and in a few places they state colors that are at variance with the plates.
So, if the prospective purchaser of this book accepts that all he (or she) will get are some good color plates and a decent selection of new photos, then this will satisfy. Anyone looking for something a bit more enlightening, may be disappointed.
Recommended with reservations.
Frank V. De Sisto
Concord Publications are available from retail and mail order shops, or from the publisher at: www.concord-publications.com